At the award ceremony of the 8th China Tourism Television Week held in Changshu, Jiangsu province, from Sept 19 to 21, a promotion film for Jiading district of Shanghai, called "Colorful Jiading", won the best award, informed an official.
The officer further said that the event, sponsored by the China Television Artists Association and Changshu People's Government, received a total of 374 competing works, featuring travel TV programs and promotion films, from 143 radio and TV stations. In response to the country's goal of realizing the "Chinese Dream", the event aims to showcase the beautiful landscape, unique customs and modern development of different areas in China and arouse people's love for travel and their hometowns.
Experts said that Jiading's winning piece thoroughly featured its local life and development through five chapters: "city of harmony", "city of energy", "city of happiness", "city of inheriting" and "city of charm". The film was highly appreciated by the audience after its release.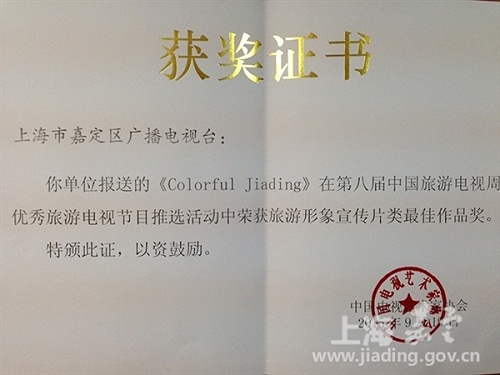 Certificate of the best award for Jiading's promotion film, called "Colorful Jiading" [Photo/jiading.gov.cn]