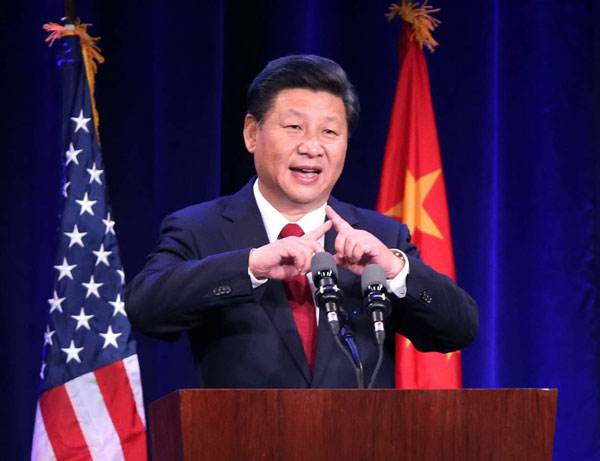 Chinese President Xi Jinping delivers a speech during a welcome banquet jointly hosted by Washington State government and friendly communities in Seattle, the United States, Sept. 22, 2015.[Photo/Xinhua]
People can understand a country or a nation from its movies because films can be seen as carriers of culture.
China's President Xi Jinping expressed his love towards American films like Sleepless in Seattle, at the welcoming dinner hosted by the local government of Washington State and friendly organizations of the US on the night of Sept.22, 2015.
"The film Sleepless in Seattle has made the city almost a household name in China," Xi said when describing China's familiarity with his host city.
Commenting on China's ongoing anti-corruption campaign, Xi said China will further promote anti-graft drive and "this has nothing to do with power struggle. It's nothing like what you see in House of Cards."
Thirty years ago in 1985, when Xi first visited the US, he stayed with the Dvorchaks, an ordinary U.S. family in Muscatine, Iowa. The Dvorchaks' daughter asked Xi whether he watched American films, Xi recalled. The girl was surprised when she learned that Xi had watched several films including The Deer Hunter and The Godfather.
So, which American films have Xi watched?