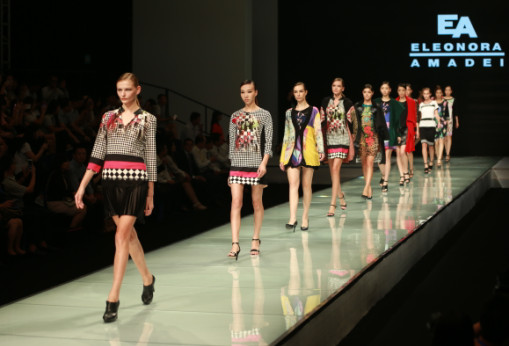 The annual Garment and Textile Fair in Dalian has drawn in global brands. [Photo/CCTV.cn]
China's port city of Dalian is a fashion powerhouse with growing international clout. Its annual Garment and Textile fair has drawn in global brands, but local suppliers are winning fans for their interplay of Chinese elements with advanced technology.
The elegance of a water town, the grandeur of sand dunes, and the symbolic peony flower—these are the major Chinese elements used by the Dalian brand Archaic, Purple in its 2016 spring/summer collection.
With body-hugging silhouettes and high collars, the dresses are quintessentially Chinese, but the motifs are made with high-tech printing instead of embroidery.
"The designs have won a lot of praise from industry insiders. Their clothes symbolize a strong return of Chinese elements, oriental fashion, on the world stage," said Li Mingfang, editor-in-chief, China Fashion.
"The scenes are portrayed in the style of ink-and-brush painting, and we've used digital-printing technology to print them on the clothes. The dresses are like moving scenes when women wear them on the street. The prints on the clothes pass on the feeling of Zen philosophy, peace, and harmony favored by us Chinese," said Wang Zhijian, manager and designer, Archaic, Purple.
Two other Dalian brands are turning heads at the fair.
The garments of Kaimen are aimed at kids and teenagers, to create an image of confidence, creativity, color, life, and love.
Meanwhile, Yousoku Menswear feature semi-casual office suits. The brand is targeted at young Chinese who want to set fashion trends among their peers.
The event has taken on international scale, with European brands Sally New York and Colb showing their latest collections on the catwalk. In all, 450 brands are sold at booths at the fair.