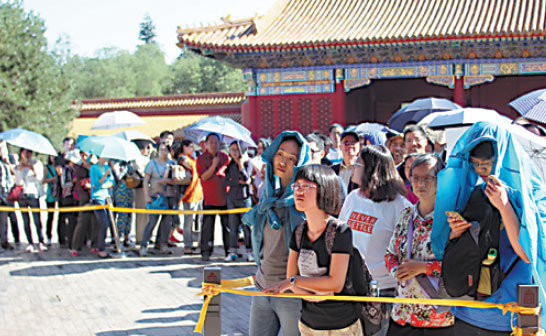 A long line forms outside the exhibition at the Palace Museum on Sunday. Visitors had to wait for about six hours to gain entry. [Zou Hong/China Daily]
Hundreds of guests gather outside of the ticket office since the exhibition kicked off earlier this month, with a staff member from the Palace Museum leading each group into the exhibition hall.
Starting from Saturday, each of the visitors had been given a card with a number on it. The number will decide the order each visitor enters the exhibition.
Many visitors have expressed satisfaction with this new measure.
"I was prepared to rush into the exhibition to take a place. But when I came here, they gave me a number and this keeps us in order. So I think this is great."
"I think the measure really helps to keep the order for visiting. I feel satisfied"
Shan Qixiang, curator of Beijing Palace Museum, says this new measure helps the Museum better control the crowds:
"From the ticket office to the exhibition hall, we divide visitors in groups and give each person a number. So visitors have no need to rush into the exhibition to occupy a place. The measure prevents visitors from getting injured in the rush. They also don't have to worry about someone jumping in line."
The organizer has also used other measures to ease visitors' uneasiness and fatigue during waiting, including leading people to queue up in the shadow and placing more chairs for people to take a break in the queue.