Fashion briefs
New jewelry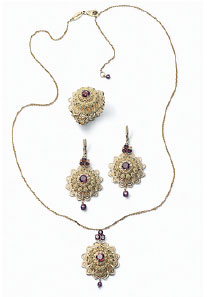 Italian luxury house Dolce & Gabbana presents some new fine jewelry lines that highlight flowers, butterflies, gems and small crosses encrusted in gold. The Primavera line is influenced by nature, featuring diamonds and gemstones inspired by daisies and butterflies. The Mamma line is a tribute to roses, the designer duo's favorite symbol of love. The Pizzo line highlights Sardinian gold filigree craftsmanship, while the Sicily line revisits the hometown of Domenico Dolce with engraved crosses on gold rosary bands. They will be sold in selected Dolce & Gabbana stores worldwide.
Beauty zone
Beijing SKP, a major luxury mall, recently opened a new beauty zone on its first floor. The zone introduced about 50 high-end cosmetics brands. Tom Ford cosmetics, Alaia leather products and Swedish skincare label Foreo all made their China debuts here. Others include Japanese brand Cosme Decorte and Korea's Whoo and Iope.
Art of housing
The 14th China International Exposition of Housing Industry was held in Beijing last week. It staged a contemporary-art exhibition that illustrates how creativity can influence and improve urban living. Architects like Ma Yansong and Zhu Pei presented their respective solutions to urban challenges. Audiences were encouraged to interact with the exhibits through digital media to experience how art can change their lives.
Saving sharks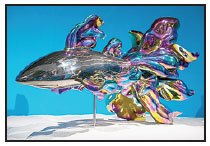 On Sharks & Humanity, a global art exhibition on shark protection, recently opened at the National Museum of China. The show presents artworks by 34 Chinese and international artists, who interpreted the theme through different media like painting, sculpture, installation, photography and poetry. The exhibition has been organized by the museum along with WildAid and Parkview Green Arts Action, an organization supported by Parkview Green mall. The exhibition runs through Sept 20, and was held in Monaco and Russia earlier.