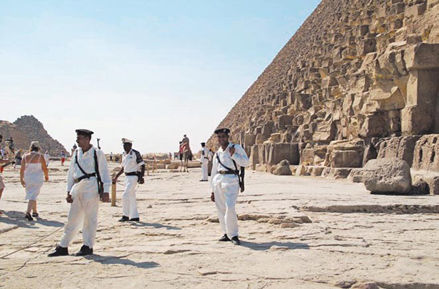 "Tour police" in Egypt [File Photo]
A couple's scandalous behavior - carving their names on a 300-year-old vat at the Palace Museum - incited criticism among netizens, while staff at the Palace Museum said they've reported the case to the police.
This kind of incident happens quite often as the penalties for such vandalism are too low, museum staff said. The fine is 200 yuan ($31.40), or a warning, for those who deliberately damage cultural relics under the protection of the country, if the harm done is not serious enough for criminal punishment, according to Chinese regulations.
This type of vandalism is illegal in many foreign countries. Let's see how they punish such uncivilized behavior.
Egypt: A maximum of life imprisonment
Egypt is a country with an ancient civilization and many large historical sites. Almost every cultural site has a band of "tour police", who are not only responsible for tourists' safety, but also keep an eye on those who might want to scrawl on relics. If someone is caught damaging relics, the "tour police" can punish him, according to the law.
A new law in Egypt sets fines in terms of the amount of damage, with the maximum penalty set at $100,000, plus life imprisonment.