Liyuan style: Elegance in navy and white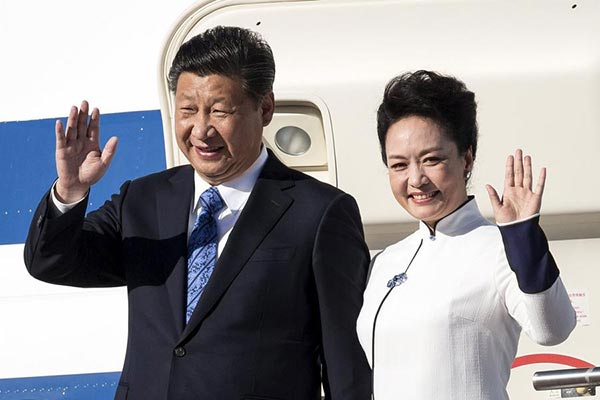 Chinese President Xi Jinping and First Lady Peng Liyuan arrive at Paine Field in Everett, Washington, Sept 22, 2015. [Photo/Xinhua]
Chinese President Xi Jinping kicked off his first state visit to the United States in the West Coast city of Seattle on Tuesday, a landmark trip aimed at building up trust and stepping up cooperation between the world's two biggest economies.
Xi will be accompanied by a team of delegates, including his wife Peng Liyuan.
Peng has stunned the world with her style ever since her first appearance as the first lady of China in Moscow, when she accompanied Xi on his state trip to Russia in 2013.
Since then, "Liyuan style" has been synonymous with elegance and grace, as a symbol of a new and modern China and China's best export of soft power.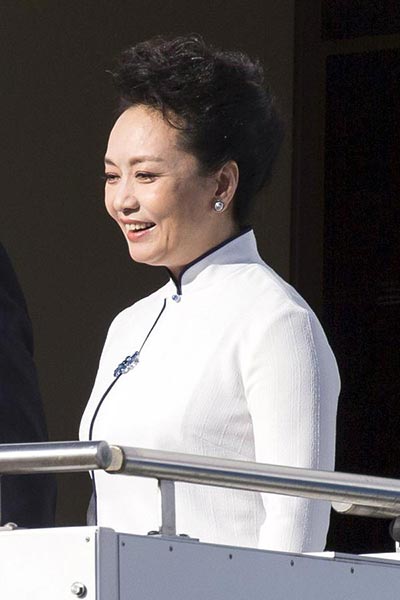 Chinese First Lady Peng Liyuan arrives at Paine Field in Everett, Washington, Sept 22, 2015. [Photo/Xinhua]
Peng carried through her love of China-inspired designs for her choice of outfits yesterday.
A clean-cut white jacket was selected, with a traditional Chinese high collar most often seen in cheongsams, matched with a pale purple skirt with flowing navy flowers and leaves at the trims. Peng accessorized with ear studs made of pearl, an item loved in China for centuries as a symbol of elegance and purity, a navy brooch on her jacket, and a small clutch that matched her pencil skirt.
Peng is also known for appearing in public with outfits that matched that of her husband's. For many times in the past, the duo's outfits have echoed one another not just in style, but also in color. White and navy were the two main hues used yesterday, in which Xi's navy tie harmoniously matched with Peng's jacket, which were embellished with navy hems.