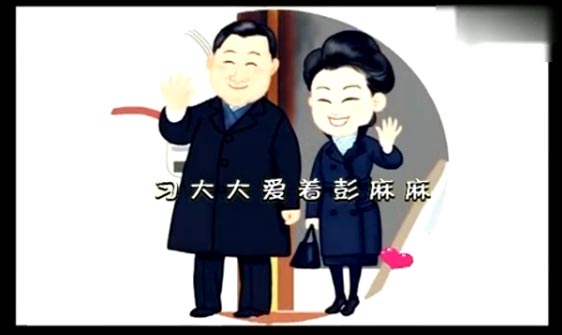 A screen capture of the viral song Xi Dada loves Peng Mama. [Photo/Agencies]
With his strong interest in national affairs, 37-year-old Song Zhigang was glued to the TV news during the 2014 Asia Pacific Economic Cooperation summit. He not only learned all the latest information about the event, he was also inspired to write a song for Chinese President Xi Jinping and his wife, Peng Liyuan.
Titled Xi Dada Loves Peng Mama, the song tells of the love between the couple, which goes "Xi Dada loves Peng Mama. Their love is like a myth. Peng Mama loves Xi Dada. A nation with love is the strongest".
When the song was released in an online video on Nov 18, it became an instant viral hit, which has been viewed over 40 million times and stirred hot discussion. Many netizens said it's sweet to listen to the song while seeing such photos, and some believe that the couple sets a good example for China's young couples.
Born in Zhengzhou, Henan province, Song works as an independent songwriter along with his team there, including singer-songwriters Yu Runze, Xu An and Wu Bai.
Song says that he finished the lyrics within an hour and sent it to his team via cellphone. The team finished composing that night. They also made the music video by themselves, which was the first time that they had ever produced a music video and uploaded it online.