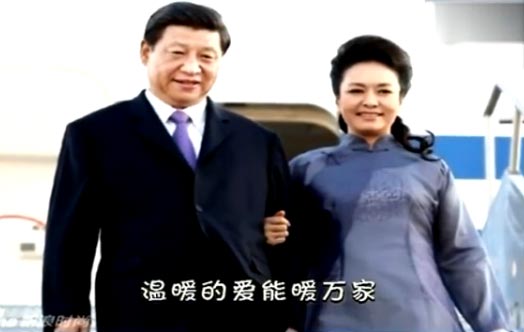 A screen capture of the viral song Xi Dada loves Peng Mama. [Photo/Agencies]
The video of the song contains 33 photos and 2 cartoon illustrations of the couple, displaying small interactive moments, including tacit eye contact between the couple and hand touching when the couple played a swing. Nine children between 4 and 12 years old were invited to rap and sing along with the team.
"When I watched the couple appearing on TV, they seemed just like any other ordinary couple and I felt close to them. With some small sweet moments, I could feel the love between the couple," says Song.
"Xi Dada" and "Peng Mama" have both become Internet buzz words, referring to the Chinese president and his popular wife. Song notes that the couple has attracted worldwide attention and even what Peng wears becomes headlines.
Yu Runze, 32, is one of the singers and also comes from Zhengzhou. She says the team started to release songs online around four years ago, mostly pop love ballads. Though they could make ends meet by making music, they remained unknown before this song.
"We didn't expect that the song would gain so much popularity online. People share the same feeling we have about the couple, which is warm and sincere," says Yu, who is a graduate of the Qilu Conservatory of Music, Shandong province, and has released five albums since 2006.
"We want to sing the song at 2015's CCTV Spring Festival Gala."
Related:
Warm hues for APEC