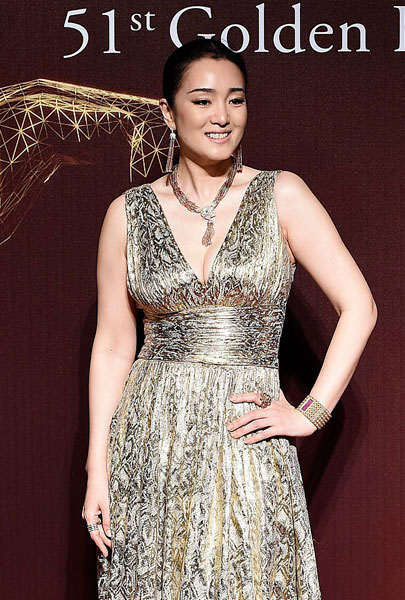 Actress Gong Li at the 51st Golden Horse Film Awards in Taipei on Nov 22. Billy Dai / Reuters
Rivalries between movie stars are the stuff of legend.
There is the notorious feud between Bette Davis and Joan Crawford that culminated in the 1962 movie What Ever Happened to Baby Jane?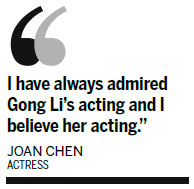 Half a century later and half a world away, Gong Li and Joan Chen combined to totally eclipse the Golden Horse Awards they had just appeared at by staging a post-show drama befitting larger-than-life egos. Only this time, the audience, via the Internet, seemed to wield the baton as it whipped the clash to a crescendo.
Gong, who served as Zhang Yimou's muse during the prime of their careers, was nominated for her role in Coming Home, in which her character suffers from politics-induced amnesia and endures adversity that symbolizes the upheaval of a nation. She went to Taipei, confident of winning for her much-lauded performance.
Surprisingly, she lost to Shiang-chyi Chen, a little-known actress from Taiwan in a movie so unheralded that few have seen it or are in a position to comment on it.
A day after Gong returned to the mainland, her agent told the media that the Golden Horse Awards, which take into consideration all Chinese-language movies, are "unjust" and "unprofessional", adding that Gong will not attend them again.
Gong's supporters pointed the finger of suspicion at Joan Chen, this year's jury president. They claimed Chen was taking it out on Gong because she held a two-decades-long grudge against the younger actress.