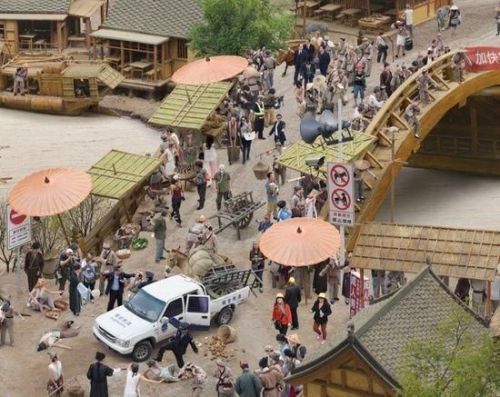 An adaptation of the famous Riverside Scene at Qingming Festival. [Photo/Agencies]
An adaptation of the famous Riverside Scene at Qingming Festival, an ancient 25-meter Chinese painting, went viral on the Internet soon after it was displayed at an international photographic exhibition in Guangdong's Guangzhou city.
Dai Xiang, creator of the new painting, took out the original scenery along the Bianhe River at the time of the Northern Song Dynasty (960-1127). Instead, he added scenes from negative social news events, such as the "Li Gang incident" — in which Li's son yelled out his father's name while being arrested for causing a fatal traffic accident, convinced his father's official position would give him immunity — as well as city management officer beating people on the street.
Dai wanted to express social hotspot issues and sense that the original painting was an ideal background for his artistic feat, because the classic work depicts various facets of folk life. It took two-and-a-half years for Dai to finish the work.
Dai claims that he is not a fan of documentary photography techniques; he prefers to take a teasing approach, using mainly staged photography, for artistic expression.
There are more than 900 characters in Dai's tour de force, and more than 100 people posed as models, including the artist's colleagues and friends, Dai told the Beijing News. Dai assumed more than 90 roles himself, from cop to thief to beggar. It cost him more than 80,000 yuan ($13,036) to create the artwork, mostly for outdoor photography, prop production and human resources.