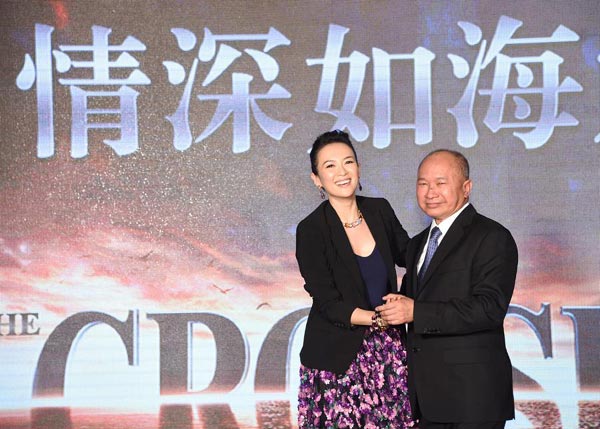 Chinese actress Zhang Ziyi and director John Woo attend a press conference for their upcoming film "The Crossing" in Beijing on Nov 10, 2014. [Photo/Xinhua]
China's rapidly expanding film industry is aiming to smash box office records the forthcoming film season with movies from the country's best homegrown talent.
The Spring Festival is a popular time for social activities. Every year a selection of films are screened during this "new year film season celebration".
Director John Woo's "The Crossing" will open the season on Dec 2, followed by the release of around over 70 big-budget movies until the season ends with the Lantern Festival.
Last year, a record-breaking 180 million people spent 6.4 billion yuan ($1 billion) on 71 films in the corresponding period.
Critics and experts are upbeat this year will be a huge success, both in terms of profit and quality.
Major film makers, including Huayi Brothers, Huace Film & TV and Enlight Media, are actively promoting their films in the hope of becoming the carnival's top titles.
The success of the Chinese film industry has been attributed to the disposable income of the affluent class, who are willing to spend more on entertainment and leisure.
China boasts around 2,300 production houses, releasing some 700 movies every year, ranking third in the world in terms of production capacity.
Related:
'Gone with the Bullets' to set presale records