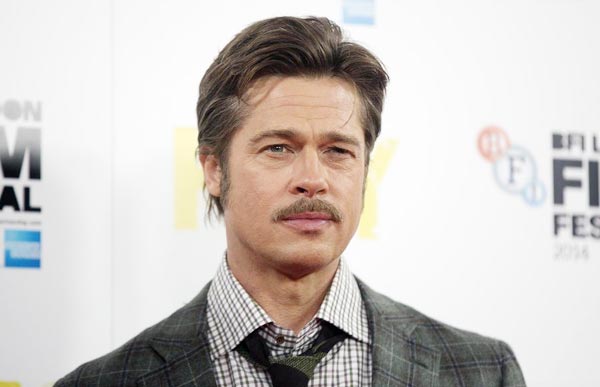 Actor Brad Pitt poses during a photocall for his film "Fury" in London October 19, 2014. [Photo/Agencies] 
Brad Pitt's gritty World War Two drama "Fury" conquered all box office foes over the weekend, ringing up $23.5 million in ticket sales at theaters in the United States and Canada.
"Fury" kicked two-time box office leader "Gone Girl" to second place. The thriller starring Ben Affleck collected $17.8 million from Friday through Sunday, according to data from tracking firm Rentrak.
Animated movie "The Book of Life" earned the No 3 spot with a debut of $17 million at domestic theaters.
In "Fury," Pitt plays a hardened war veteran who leads men overcome by fatigue and traveling by tank in Nazi Germany during the final months of World War Two. Shia LaBeouf, Jon Bernthal, Michael Pena and Logan Lerman play the rest of his US Army crew.
Critics gave high marks to "Fury" for strong performances and a fresh take on the genre, with 80 percent recommending the film in reviews collected on the Rotten Tomatoes website.
The movie, which cost $68 million to make, fell just shy of industry projections of an opening of at least $25 million.
"We're in it for the long haul," said Rory Bruer, president of worldwide distribution at Sony Corp's movie studio, which released the film, calling the figure "within the realm of what we expected" and "a very good start".