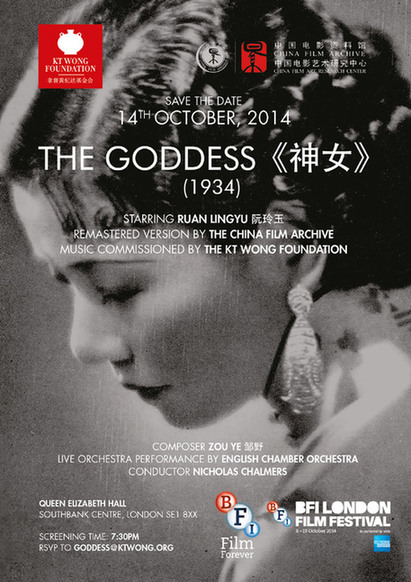 Poster of the screening of "Goddess" in London. [File Photo]
A restored version of the 1930s Chinese classic silent film "Goddess" was screened in London, with a new music score performed live by the English Chamber Orchestra.
Featuring the most famous actress of the Chinese silent cinema, Goddess tells the story of a young single mother who struggles to raise her son, by working as a prostitute on the streets of the 1930s metropolitan of Shanghai.
The film was restored by the China Film Archive and invited by the British Film Institute to London, as part of this year's London Film Festival program.
Sun Xianghui, director of the China Film Archive says this classic Chinese silent film was almost 80 years old, but with restoration and a new music score by Chinese composer Zou Ye, it was given a new life.
"There is a huge contrast before and after the restoration. You can no longer see the blur and scratch but a perfect clear screen. For example, in this film, the leading actress Ruan Lingyu is looking gorgeous. For colored pictures, after restoration, their quality is on par with what we see in cinemas today."