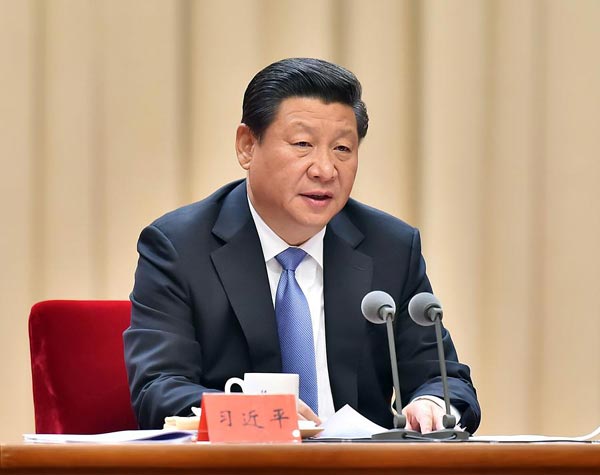 Chinese President Xi Jinping delivers a speech in Beijing on Oct 8, 2014. [Photo/Xinhua]
BEIJING -- Chinese President Xi Jinping told artists on Wednesday that they should not pursue commercial success at the expense of producing work with artistic and moral value.
Addressing authors, actors, script writers and dancers at a symposium in Beijing, Xi urged artists to create more works that are both artistically outstanding and morally inspiring, in order to serve the people and socialism and to present socialist core values.
Artists should not "lose themselves in the tide of market economy nor go astray while answering the question of whom to serve, otherwise their works will lack vitality," he said.
Art works should not be the "slaves" of the market and should not bear "the stench of money."
Calling art and culture an indispensable contributor to the Chinese dream of national rejuvenation, the president said Chinese artists have produced many good works since the country's reform and opening-up drive, but warned that problems such as plagiarism and unoriginality still remain.
He said the status-quo of "quantity over quality" in art has created "a plateau without summits" and led to a cookie-cutter approach in production and consumption.
"Popularity should not necessitate vulgarity and hope should not entail covetousness," Xi said. "Pure sensual entertainment does not equate to spiritual elation."
He urged artists to create more works that have "bones, morality and warmth" -- meaning works that advocate integrity, merits and compassion -- in order to provide the public the best "food for thought" available.
Artists should be innovative and put the social benefits of their works before everything else, Xi said, adding that good art is intellectually and artistically successful as well as popular among the public.
"The true value of a masterpiece lies in its intellectual depth, artistic exquisiteness and skillful production," the president said, calling on Chinese artists to produce more works that "disseminate contemporary Chinese values, embody Chinese traditional culture and reflect Chinese people's aesthetic pursuit."
Academic and artistic democracy should also be promoted to allow for full discussions between groups holding different views, Xi said.