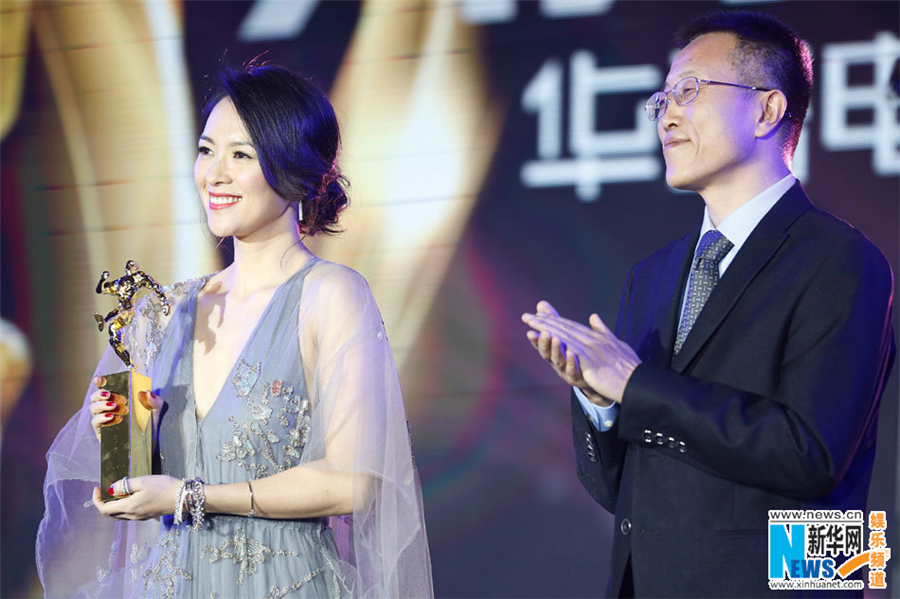 Chinese actress Zhang Ziyi attended the Awards Ceremony of the 14th Chinese Film Media Awards in Beijing, Capital of China, Oct 11, 2014. [Photo/Xinhua]
The 14th Chinese Film Media Awards was held in China's capital of Beijing on Oct 11, 2014, with the films Drug War, The Grandmaster and Ilo Ilo winning the top prizes.
Many celebrities, including Zhang Ziyi, Yao Chen, and Huang Bo were spotted at the event.
Hong Kong-based Chinese director Johnnie To, best known internationally for his action thrillers, was the biggest winner of the night.
His film, Drug War, took home two of the big awards, including best picture and best director.
Renowned Chinese actress Zhang was award the best actress prize for her excellent performance as a kung fu master in the film The Grandmaster, while Hong Kong actor Nick Cheung won best actor in a role as a former boxing champion in the film Unbeatable.
The best screenplay as awarded to Singapore director Anthony Chen for his maiden work, Ilo Ilo.