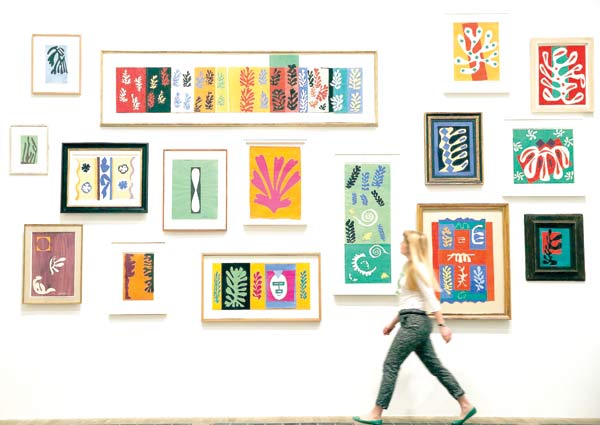 An employee poses with French artist Henri Matisse's works at the Tate Modern gallery in London in April. The show, Henri Matisse: the Cut-Outs, displays 100 artworks by Matisse, and will run through Feb 8 at the Museum of Modern Art. [Photo/Agencies]
Blue figures swim around walls, dancers prance in a circle and flowers sprout on a huge canvas in an exhibition of the cut-out works of French artist Henri Matisse that opened on Sunday.
The show, Henri Matisse: the Cut-Outs, which runs through Feb 8 at the Museum of Modern Art, includes 100 works from private and public collections, drawings, textiles and stained glass from the final years of the renowned artist, who died in 1954 at the age of 84.
"It is the most extensive exhibition of this period of Matisse's work ever mounted," says Jodi Hauptman, a curator of the show.
Matisse was already famous for his vivid paintings when he began to "draw" with scissors, cutting colored and painted paper into various shapes, then mounting and pinning them on paper, canvas and the walls of his studio.
"He is at the end of his life but he is still inventing something new," says Hauptman, "and not accepting what he had always done."
The exhibition follows Matisse as he begins with small works of dancers twirling and leaping and figures in bright colors using paper, which was more expedient and less labor intensive than paint.
It follows with Jazz, a series of works for a project for publisher Teriade, and continues with larger works such as The Thousand and One Nights, which depicts the story of fictional Queen Scheherazade from the Arabian Nights, and his four Blue Nude studies of the female form.
"He began using paper to kind of form his compositions and at this point it is helping him do what he needs to do," Hauptman explains. "After he started working on Jazz he sees that he has invented this new thing that he calls a cut-out operation."
When the exhibition was shown in London earlier this year, it drew more than 560,000 people during its nearly five-month run at the Tate Modern, making it the museum's most popular show ever.
The MOMA show is similar but also includes The Swimming Pool, which fills a room in the exhibit with cut-outs of ultramarine blue swimmers, divers and sea urchins.
Inspired by a visit to a favorite pool in Cannes, Matisse made the expansive work pinned on white paper on walls lined with tan canvas in his dining room in Nice.
It is on view in New York for the first time in two decades and followed major conservation work, which sparked the exhibit that was five years in the making.
Other highlights include The Parakeet and the Mermaid, a massive cut-out work covering an entire wall with bright blues, greens, reds and blues; and Ivy in Flower, a large maquettte for a stained-glass window.
"You see the ambition of Matisse, the strength of the artist and the strength of the work," says Hauptman, adding he had found the art form to serve his goals.
Reuters