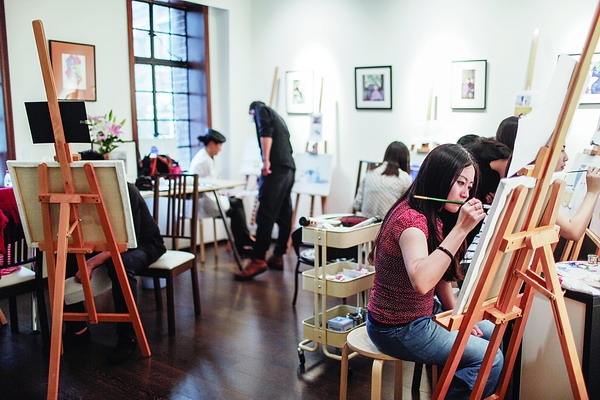 VIP oil painting salon, hosted by Jin Space, is the most expensive art class in Shanghai. Most students are wealthy and successful professionals with a passion for art. Photo provided to Shanghai Star
It's the most expensive art class in Shanghai, but does money equal talent? A new exhibition will display the works of wealthy students from the VIP oil  painting salon at Jin Space. Yu Ran reports.
It's known as the most expensive painting class in town, but the high cost, about 10,000 yuan ($1,630) for 12 lessons, has not stopped the VIP oil painting salon at Jin Space filling up with wealthy art students.
The class, launched at the end of June, is now holding an exhibition of the works of its first batch of students.
"The idea of opening a painting salon was inspired by some art collectors from our gallery, who have also become students as they were wanting to have their own paintings framed and hung on the walls," says Michelle Xu, the founder of Jin Space. The art gallery showcases the work of her father Xu Jinping, a well-known artist from Taiyuan, Shanxi province.
Xu organized the graduation exhibition that shows the student's paintings alongside artwork from Murakami Takashi and Yayoi Kusama, two famous artists from Japan.
"We want to make our students feel like they are artists, to have their works displayed in the gallery for people to look at and even buy as a collection," Xu says.
In order to ensure the privacy and exclusivity of the class, Xu set the price quite high and set the maximum number of students at six per class, giving each student the opportunity to receive individual assistance from the teacher.
During the 12 lessons, students learn the basic theories of oil painting, color-mixing skills and painting techniques. There is a mix of indoor classes and outdoor practical work every week.
"I am very proud to showcase the paintings of my students whose works are not related to art but they managed to complete their works in a total of 20 hours," says Ma Lihua, a young contemporary artist and the course teacher.
To help students learn the practical skills of oil painting, Ma has to explain terms and professional phrases in detail. He also is delighted to share his professional experience with people who share his passion for art.
"I am not only acting as a teacher in the salon but also a guide and a friend to learn from and enjoy the pleasure of painting," Ma says.