Going Spanish, deliciously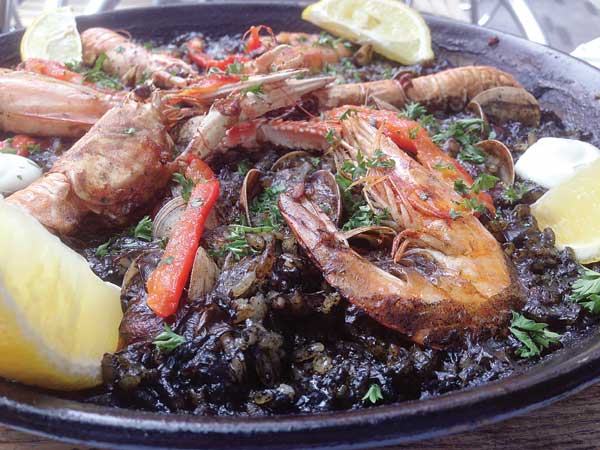 BLACK BEAUTY: The squid ink seafood rice is a favorite with the ladies. [Photo by Pauline D. Loh / Shanghai Star]
A Chinese owner who speaks fluent Spanish, a chef who looks like he'd just stepped out of a fashion magazine, and many more temptations in the dozens of tapas and mains. Pauline D. Loh gets drunk on sangria.
Pika Pika, says Chen Wen Jie, is a phrase that describes how friends and family share good food. It is about a lifestyle of casual dining on delicious little platters of croquettes, shaved ham, grilled octopus, prawns in garlic olive oil, bowls of green olives, tomato bread, juicy sausages …
After 30 years in Spain, Chen speaks the language like a native and he prattles at breakneck speed, exchanging suggestions with chef Oscar Beltran on the ideal tasting menu for our table.
Our eyes should have been on the menu, but instead, they were drifting in the direction of the chef, whose dimples appear and disappear with distracting regularity as he smiles and smiles.
Beltran is definitely one of the temptations at Pika Pika. Chen and his brother lived and worked in Spain for almost three decades, but then decided to come home.
Pika Pika is their first restaurant, although I am pretty sure it won't be their only one. The elder Chen also has an import company that brings in an excellent range of Spanish wines, including tempranillo, an excellent varietal and one that is most characteristic of Spain.
Pika Pika is located at a brand new gourmet destination, 1788 Square on Nanjing Road. Turn left, and the gilded tops of the Jing'an Temple are just about a block away. Pika Pika has indoor seating, but the best place to eat, drink and people watch is still the outdoor terrace.