Energy, food and rail in the mix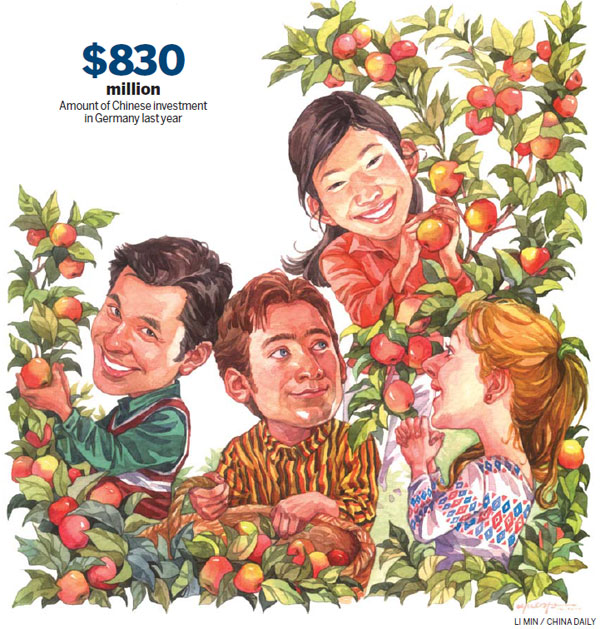 "Great powers are key, neighboring countries are very important, developing countries provide a foundation and multilateralism provides the setting."
That saying used in Chinese diplomacy may well raise the question of where the Europe now sits in the scheme of things. As China's Premier Li Keqiang visits Germany, Russia and Italy from Oct 9 to Oct 17, the resounding answer seems to be: at the very apex.
The trip comes four months after he visited Britain and Greece. On the latest trip, he will visit the headquarters of the United Nations Food and Agriculture Organization in Rome and attend the 10th Asia-Europe Meeting summit in Milan, from Oct 16 to 17.
In March, President Xi Jinping visited four European countries, taking in EU headquarters in Brussels. Analysts say the intensive top-level visits underscore the important international political and economic role that Europe plays.
They also expect a series of deals that will deepen China's relations with the three countries visited and give new impetus to the Asia-Europe dialogue.
It will be Li's second visit to Germany since he took office in March 2013, and with German Chancellor Angela Merkel he will chair the third round of China-Germany Intergovernmental Consultations in Berlin.
Li will also attend the Hamburg Summit on Oct 11 and give the keynote speech. The summit is considered one of the most important Sino-European economic forums, providing a platform for business dialogue between Europe and China.
In Russia, Li will attend the 19th China-Russia Prime Ministers' Regular Meeting and a forum with a theme of innovation. More than 30 agreements on financial, energy and high-speed rail cooperation are due to be signed.
China and Russia are likely to reach agreements on energy, finance and high-speed railways, and highlight collaboration in politics and on international issues, observers say.
During the visit to Italy, which is the current president of the Council of the European Union, Li is expected to hold talks with Prime Minister Matteo Renzi, President Giorgio Napolitano and other Italian leaders.
On Oct 15 he will pay a visit to FAO headquarters in Rome, underlining the importance China attaches to international cooperation in non-traditional security fields.
China's contributions to improving food security and reducing poverty have been widely hailed.
A highlight of Li's trip will be the 10th ASEM summit in Milan, at which China will reinforce its efforts in promoting ties between Asia and Europe. "Europe has an important position in China's foreign diplomacy, as it is China's largest trading partner," says Peter Ho, professor at Delft University of Technology in the Netherlands. "They also have a mutual interest in being able to enjoy the maximum access to each other's markets, as trade flows have exceeded $1 trillion in recent years. The EU is a vast market for Chinese goods. For China, the EU is also a critical counterbalance to the US market.
"But trade is not the only issue. The EU in geopolitical terms also fulfills a complementary, sometimes buffering, role on the international political stage between China and the US."
Germany, the first stop on Li's trip, is the only country he has visited twice since he took office, and follows Merkel's seventh visit to China, in July.