Currency trade can forge closer ties, envoy says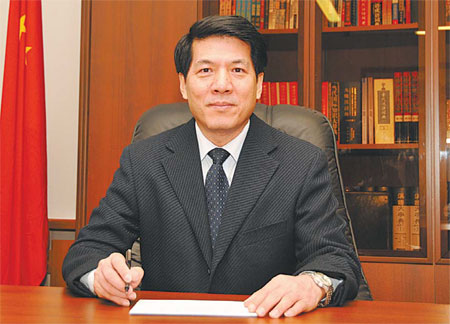 China's Ambassador to Russia Li Hui says Premier Li Keqiang's visit to the country is expected to inject new impetus into the relationship between the two countries. Provided to China Daily


China's ambassador to Russia talks of 'tremendous dynamics'
Chinese and Russian businesses should be encouraged to settle their transactions by using the yuan and the rouble, which could help boost trade between the two countries, says China's Ambassador to Russia Li Hui.
Increased use of the two currencies is seen as an important tool in helping the two countries achieve their goal of doubling trade by 2020 from next year's target of $100 billion (79 billion euros).
Trade between the two was worth $89.2 billion last year, China being Russia's biggest trade partner for the fourth year in a row. In the first half of this year bilateral trade was worth $44.5 billion, 3.3 percent higher than in the previous corresponding period.
"To realize such targets, we need to improve our investment environment, and on top of that I want to propose a set of seven measures for both sides," Li says as he prepares for the visit of Premier Li Keqiang to Russia - his first since he took office in March last year.
The premier will attend the 19th China-Russia Prime Ministers' Regular Meeting during his visit, Li Hui says, and this is expected to inject new impetus into the relationship between the two countries.
Li's meeting with his Russian counterpart Dmitry Medvedev is part of regular meetings of Russian and Chinese leaders. President Xi Jinping has met his Russian counterpart Vladimir Putin several times this year.
Li Hui says the frequent meetings of leaders on both sides points to the "tremendous dynamics" of the relationship, and reflects the "common will" of the people of the two countries.
"Our friendly and cooperative relationship has also showcased the new trend of international relations in the 21st century," says the ambassador, who has been China's envoy to Russia for five years.
"The essence of the China-Russia relationship is non-alliance, non-confrontation and not targeting any third party but focusing on peaceful co-existence and working together for mutual benefits."
Li says the Sino-Russia relationship is a good example of how ties among global big players can be successfully forged and highlights the fact that global politics is becoming increasingly multipolar.
"In country-to-country relations this is the core principle that China and Russia are demonstrating to the world. It is also our contribution to world peace and development."
Economic collaboration is essential in the Russia-China partnership, and both are committed to realizing their trade targets, he says. Both countries thus need to forge closer ties in finance and increase trade settlements by using each other's currencies.
In recent years, China and Russia have started currency swaps to reduce the reliance on the dollar in trade.
Both governments should facilitate two-way investment and help Chinese investors to take part in infrastructure projects, exploit mineral resources and build affordable housing in Russia, Li says.
China looks forward to working with Russia in high-tech areas including the peaceful use of nuclear energy, aerospace technology, civil aviation, manned space technology and satellite navigation, he says.
Apart from the energy trade, Li says, both sides should work toward a "comprehensive energy cooperation partnership" to tap potential in coal mines, electricity, energy conservation, natural gas, new energy and petrol.
Since the two countries adopted an energy negotiation mechanism six years ago, both have made rapid progress in working together on energy, especially in the nuclear field and in oil and electricity. Both sides recently signed a $400 billion, 30-year gas supply contract.
"Despite such progress, we have encountered problems that could not be avoided in energy cooperation," Li says.
The potential for direct investment in each other's energy sectors is huge, he says, and China welcomes Russian investment in China's energy businesses.
"We also hope that Russia can relax its investment environment and bring in more Chinese investors into the energy sector."
fujing@chinadaily.com.cn
(China Daily European Weekly 10/10/2014 page9)