EU squabbling holds back Beijing relationship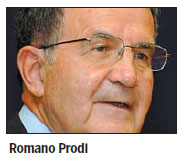 Retired European politician Romano Prodi said Brussels would be making a "stupid" mistake if it does not grant China market economy status before it is automatically given by 2016 under the World Trade Organization accession agreement.
"I have been long supporting and asking Brussels to do so but we didn't," said former European Commission president Prodi in an exclusive interview with China Daily before Premier Li Keqiang's visit to Germany, Russia and Italy, which ends on Friday.
"Brussels is stupid if it will not give Beijing such treatment before the 2016 deadline," Prodi said.
During his presidency of the European Commission from 1999-2004, China joined the World Trade Organization, and he made great efforts to lift Brussels' arms embargo against Beijing and to grant Beijing market economy status, although he failed due to the lack of the "same opinion" among European Union member states.
The 75-year-old Prodi said he will continue to push Brussels to act after the new Commission and European Council take office in November and December.
But experts say Brussels' "complicated" decision-making process may disappoint Prodi again. Every member state has a veto right, and it is difficult to persuade them to speak with the same voice. What is more, it still needs the European Parliament's stamp of approval.
But Prodi said Europe has "easier access" than the United States for China to "invest globally", which he takes as the "second step" for this populous country to invigorate the world's economy.
"China now is in the right position to invest globally," he said. "In the long-term view, it is just the second step for China to improve its competitiveness."
Prodi said in his Bologna apartment that he has been closely observing China for decades with "special affection".
In the 1980s, when he first visited China, he found that its opening-up and reform drive had injected a lot of "energy".
And after retirement from his second term as Italian prime minister from 2006-08, he spent three to four weeks every year in China, teaching as a professor of economics. Prodi said it is "a must" for China to invest outward to absorb the world's advanced technologies.
"China must act very quickly as other countries, such as South Korea and Japan, have done so very successfully," he said.
He said Europe and the US should be natural destinations of China's investment expansion. But he said the US, compared with Europe, has a hostile policy toward China's growing global presence and it even prevents China from buying medium-sized US companies due to "strategic and state security consideration".
"But Europe has very easy policy and, in addition, Europe is still in deep difficulty, which forces it to sell its products or technology at a lower price," said Prodi.
Apart from buying companies, Prodi said, China should also restructure its "global presence" by relocating part of its manufacturing, laboratories and innovation centers to Europe. And it is also essential to forge ties with European universities, which have strong research capacities.
He emphasized that China's investment overseas is now of "equal strategic significance" as the country's endeavors were in the 1980s to attract foreign investment to realize its economic takeoff.
fujing@chinadaily.com.cn