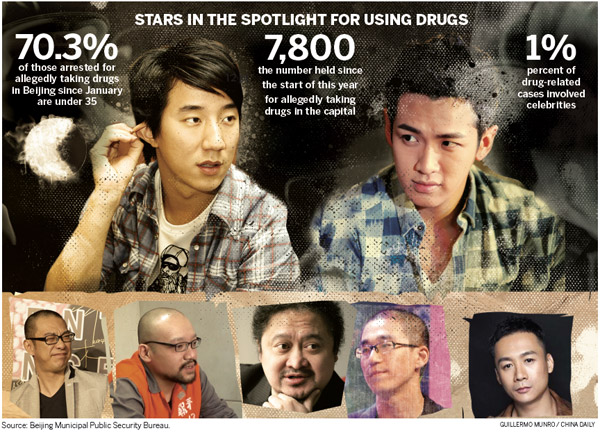 Clockwise from top: Hong Kong actor Jaycee Chan, Taiwan actor Kai Ko, actor Gao Hu, actor Zhang Mo, director Zhang Yuan, singer Li Daimo and scriptwriter Ning Caishen.
Recent arrests set bad example, government says
The country's top press and media watchdog has ordered TV stations and other outlets to stop broadcasting material featuring stars who use drugs or visit prostitutes.
The ban, which covers online media, film producers and publishers, is intended to keep the industry healthy. It applies to films, advertisements and TV and radio shows
Celebrities who break the law should not be invited to appear in programs, and transmission of their works should be suspended, the State Administration of Press, Publication, Radio, Film and Television said in a statement.
Recent cases involving stars using drugs or visiting prostitutes have harmed the image of the entertainment industry and set a bad example for young people, the statement added.
On Aug 14, Jaycee Chan, son of kung fu superstar Jackie Chan, was detained after he allegedly allowed others to take drugs at his home in Beijing. A month later, prosecutors ordered the arrest of the singer and actor.
Taiwan actor Kai Ko was caught using drugs in the apartment, and was given 14 days' detention.