Young netted in drug abuse blitz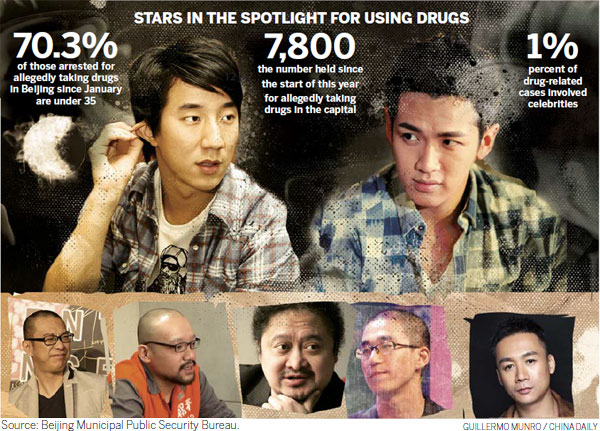 Clockwise from top: Hong Kong actor Jaycee Chan, Taiwan actor Kai Ko, actor Gao Hu, actor Zhang Mo, director Zhang Yuan, singer Li Daimo and scriptwriter Ning Caishen.
The problem has become a hot issue for the nation's authorities, with a series of youthful celebrities involved.
Young people comprise the majority arrested in recent years during the police crackdown on drug use, Beijing police and experts say.
More than 7,800 people have been arrested for alleged drug offenses in the capital since January. Of these, just over 70 percent are under the age of 35, the Beijing Public Security Bureau says.
Eighty-two percent allegedly used crystal methamphetamine, or "ice", followed by those who used heroin and marijuana, police said, adding that most of those arrested were jobless.
The problem of young people taking drugs has become a hot issue, with a series of young celebrities involved.
On Monday, Beijing police said that actor Jaycee Chan, 32, the son of kung fu movie superstar Jackie Chan, and Kai Ko, 23, an actor from Taiwan, had been detained on suspicion of taking drugs.
Li Wenjun, associate professor of drug prohibition studies at People's Public Security University of China, said, "More young people are using drugs or have become involved in drug-related cases in recent years, because more new-style synthetic drugs have entered the mainstream market."