Zhang Mo detained again for drug-taking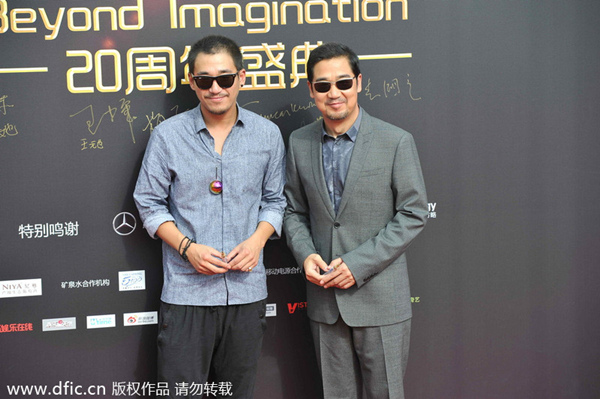 Chinese actor and director Zhang Guoli(R) and his actor son Zhang Mo pose on the red carpet of the grand ceremony for the 20th anniversary of Huayi Brothers Media Corporation in Haikou city, Hainan province, June 7, 2014.
Beijing police confirmed actor Zhang Mo has been detained, but did not reveal any details.
On Thursday morning, an editor working for the South China Morning Post placed a statement on Sina Weibo, a Chinese version of Twitter, that "The son of 'Emperor Zhang' is detained again for drug-taking." Many people suspected the person referred to is Zhang Mo, actor Zhang Guoli's son.
And on social media they are speculating that the young actor's situation is drug-related. Efforts to reach staff at Zhang Mo's studio and his father, Zhang Guoli, for comment have so far been unsuccessful.
In 2012, Zhang Mo was arrested over marijuana use when police searched his home after receiving tip-offs.
Since Zhang Mo's detainment was circulated on Sina Weibo Thursday, Zhang Mo detained again for drug-taking# has become the top topic on Sina Weibo as of 11 am on Friday, with 104,257 users participating in the discussion forum.
Most Weibo users have expressed sorrow towards Zhang Mo's father, Zhang Guoli.
One internet user posted, "Zhang Mo is the actor Zhang Mo instead of actor Zhang Guoli's son, he should learn to shoulder his mistakes." Another internet user also posted, "From a railway worker to a Spring Festival Gala host, Zhang Guoli has had a rich life experience.
However, his son is such a troublesome guy for him to worry about so much. Don't cry, Guoli, add oil!!!" Zhang Mo, born in 1982, followed his father to become an actor, starring in many films and TV dramas. Zhang Guoli, is known widely for playing Emperor Qian Long, one of the longest ruling emperors of China's Qing Dynasty in a popular TV series.