Chinese celebrities caught with drugs
Since January, more than 7,800 people have been detained for taking drugs in Beijing, an increase of about 72 percent year-on-year, the police said. During a series of drug abusing cases this year, some big names are involved in domestic entertainment circle.
On Aug 13, the Beijing Trade Association for Performances along with other performance groups signed an affirmation to prohibit narcotics in the city's entertainment industry. They promised not to cast or organize performers with a history of drug use in any performances.
Take a look at this list of Chinese celebrities who fell from stardom due to their drug use in 2014.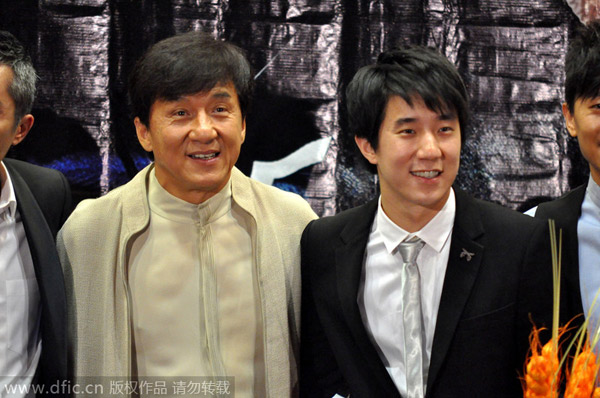 Jackie Chan and his son Jaycee Chan are seen in this file photo taken on June 5, 2012. [Photo/IC]
1. Jaycee Chan - Detained for allegedly hosting others to take drugs in Beijing on Aug 14, 2014.
Jaycee Chan, the 32-year-old son of kung fu superstar Jackie Chan, has been detained by police in Beijing along with singer Kai Ko. Police confiscated more than 100 grams of marijuana at Jaycee Chan's home and arrested another man surnamed Song, who allegedly sold the drugs to the pair. Police said that Jaycee Chan is under criminal detention for allegedly hosting others to take drugs, while Ko is under administrative detention.