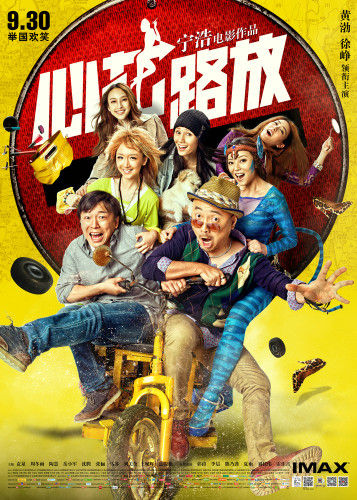 A poster of Ning Hao's road trip comedy Breakup Buddies. [Photo/ent.cnr.cn]
Mandarin-language
movie
s dominated the Chinese box office in a week that included the patriotic National Day holiday, with
Ning Hao
's raunchy road trip comedy Breakup Buddies racing ahead.
After six days on release, the movie has taken $95 million (579 million yuan), with 17 million admissions.
It showed on nearly 40 percent of all movie screens in China and had an opening weekend take of $38 million.
Ning is seen as one of the directors who will feed China's need for content to show on the country's growing number of movie screens.
With a week that included a holiday celebrating the foundation of the People's Republic of China in 1949, it was perhaps no surprise that Chinese-language movies should notch up a strong performance at the box office.
Foreign movies generally have to make way for domestic fare at this time of year here on the Chinese mainland.
In second place was the Taiwan cop actioner Black & White: The Dawn of Justice, which took $20 million in its first five days. The movie had more than 100,000 screenings and chalked up nearly 3.3 million admissions.
In third place was Hong Kong director Peter Ho-sun Chan's Dearest.
In fourth place was the sci-fi animated feature Armor Hero Atlas, directed by Zheng Guowei, which opened on Oct 1 and earned $5 million for the week.