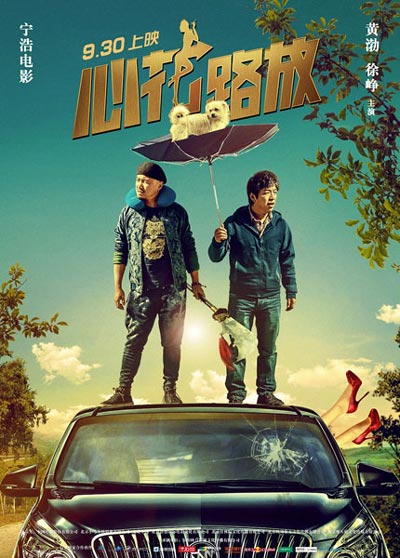 A poster of director Ning Hao's new film "Xin Hua Lu Fang" [Photo/Mtime.com]
Chinese film director
Ning Hao
said that his new film "Xin Hua Lu Fang" was be considered as a male edition of the famous American adventure film "Thelma & Louise" directed by Ridley Scott in 1991. It stars Geena Davis as Thelma and Susan Sarandon as Louise.
"We thought for a long time how to describe the new film. Later it turned out that it was safe to define it as a male version of "Thelma & Louise".
Ning, joined by famous Chinese actors Huang Bo and Xu Zheng, attended a press conference on the film in Shanghai on June 14.
The road-trip film "Xin Hua Lu Fang" stars famous Chinese actors Huang and Xu. It tells story of two friends spurned by love who assuage their broken hearts by embarking on a road trip from the organized chaos of Beijing to the serene surroundings of Dali in southwest China's Yunnan province.
It's set to hit Chinese screens on September 30th.