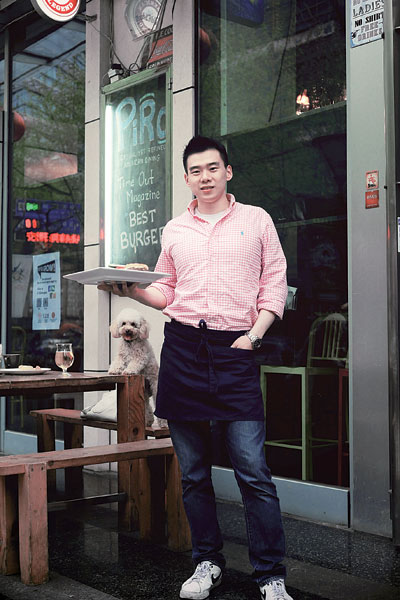 Charles Zeng's laid-back eateries attract a younger crowd who are drawn to his innovative kitchen creations [Photo/Provided to shanghai star]
It was a steep learning curve for Charles Zeng, whose first job in hospitality was reversing the fortunes of a failing restaurant. But after only three years in the trade, he stands at the helm of three successful eateries.
Charles Zeng had almost no experience in the hospitality industry when he took on the management of his father's restaurant, which was in danger of going bankrupt, in 2011.
But not only did the enterprising Zeng reverse the fortunes of his father's eatery, but three years on he has also opened two successful restaurants of his own.
Born in Shanghai, but having grown up in the United States, 28-year-old Zeng was working as a consultant in New York when he decided to quit his job and return to China to run Piro, an American bar and grill. At first, he thought operating the restaurant would be easy, but his relaxed attitude soon proved foolish. He was shocked when Piro kept losing money, it's unsteady performance meant it failed to retain regular customers.
"I didn't want to be a loser, shutting down the restaurant because of financial problems, so I stepped into the kitchen and began seriously getting involved in the business," Zeng says.
He switched his focus and began to revitalize the restaurant from the ground up. He started with learning to cook, creating dishes to improve the menu, chatting with customers for their suggestions about the food, and having more communication with his employees.
"Running a restaurant is the same as any other service-oriented business, which requires the owner to deal with a wide range of matters. For me, it was also a process of obtaining experience and learning lessons," says Zeng.
It only took Zeng a few months to turn Piro around, and it is now a popular and profitable restaurant.