A gilded prophet comes home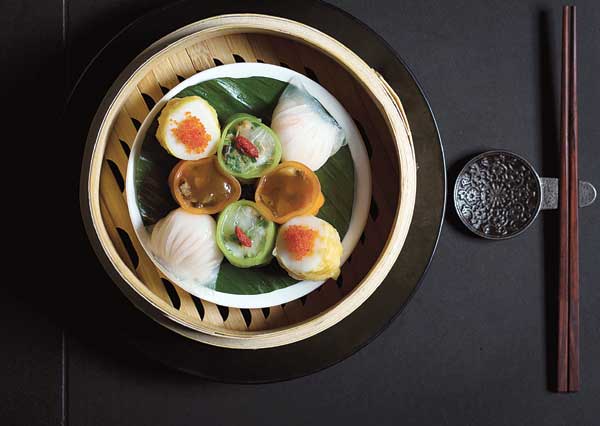 Hakkasan assuages homesickness with little bites. [Photo provided to Shanghai Star]
It is probably one of the best-known Chinese restaurants in the United States, possibly Europe, and now it is finally in Shanghai. Pauline D. Loh looks at how this "overseas Chinese" performs in the motherland.
There is a Hakkasan in Beverly Hills, another in Las Vegas, a third in San Francisco and still another in New York. It is where homesick Chinese in the United States go for an authentic menu away from the standard sweet-and-sour gravy and lobster sauce.
Many years ago, the first Hakkasan started in London, and there are still two extremely popular outlets in Hanway Place and Mayfair, where the air is scented by Penhaligon's Blenheim Bouquet more than plebian Armani.
But, it was only in March this year that Hakkasan came to China, a prophet returned to the native land. Both international and local food critics were all agog to see if the message Hakkasan was preaching abroad would sit well with the natives.
The test came when we were invited to do a tasting of the "Golden Week" menu, a special set to be available in all Hakkasan restaurants worldwide, so Chinese at home and abroad can celebrate National Day with a good feast, like they do at every festival. At the original Hakkasan in London, its Chinese executive chef has created a menu to please aficionados of Chinese food.
The menu being offered in Shanghai at 18 on the Bund is slightly adjusted, offering a braised whole Liaoning sea cucumber as a main course option to a much safer lobster dish. Sea cucumber, even if you call it beche de mer, is definitely an acquired taste, although it will probably find a more enthusiastic following in China then Beverly Hills or Las Vegas, and more so in the north than in the south of the Middle Kingdom.
There is plenty to like in the set menu. Presentation is top class, and the Western-style take on Chinese dining can surprise, even delight, the hardened gourmet. I liked the Peking Duck with Caviar, two mouthfuls that combined taste, texture and luxury in equal amounts.