Celebrities help to promote breast cancer awareness month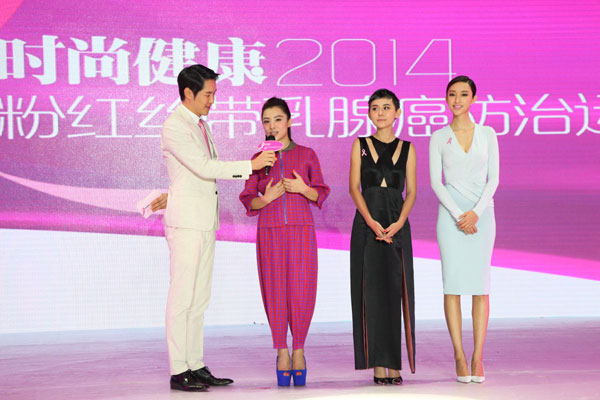 Former Olympic gymnastics champion Liu Xuan (in pink), actress Rayza (in black) and movie star Zhang Li (in white) attend the "Pink Ribbon Illumination" lighting ceremony at China World Hotel, Sept 26, 2014. [Photo provided to chinadaily.com.cn]
October is marked as the international Breast Cancer Awareness Month by major charities each year, featuring a worldwide campaign to increase awareness of the disease in various forms. The symbol, pink ribbon, is used to express moral support for women battling breast cancer.
On Friday evening, a "Pink Ribbon Illumination" lighting ceremony was held at China World Hotel, featuring celebrities including movie star Zhang Li, singer Wu Mochou, and former Olympic gymnastics champion Liu Xuan to witness the pink ribbon symbol being projected on the facade of the pink illuminated hotel building.
Since 2000, more than 600 landmark architectures around the world, such as the Rockefeller Center in the US, Tokyo Tower in Japan and Taj Mahal in India, have been lit up in pink as part of the Pink Ribbon campaign.
The pink ribbon also symbolises early prevention, early detection and treatment efforts with a footprint in dozens of countries around the world. In recent years, it has come to embody health, beauty and confidence in the world's modern ladies.