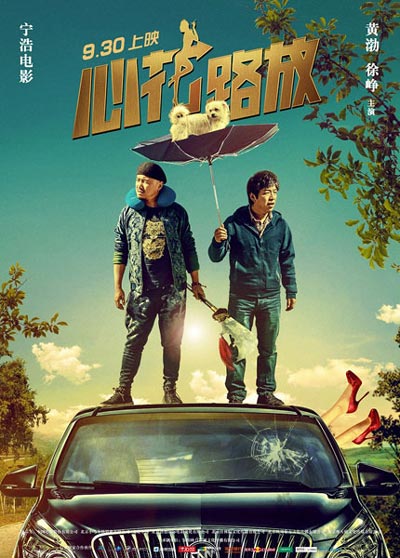 A poster of director Ning Hao's new film"Xin Hua Lu Fang" [Photo/Mtime.com]
TORONTO -- "Breakup Buddies" is more than meeting the eye, according to Chinese director Ning Hao, who is at the Toronto International Film Festival for the first time with his latest road trip film.
The film follows a man and his best friend, played by Xu Zheng and Huang Bo, who hits the road to deal with the emotional aftermath of his recent divorce.
Ning said "Breakup Buddies" brings fun and humor onto the big screen, but is more than just pure entertainment for the audience.
"This film is about life, about how you face obstacles and how you should deal with them," he told Xinhua in an interview. "What's life's true meaning? I think that's the theme. It's by experiencing these things."
It's not the first time that Ning made a road trip film. His last work, "No Man's Land," also took place on the road - in the remote gobi desert in Xinjiang.
His new film takes on a much different style, according to Ning, who explained how he created a hybrid of genres to mix things up.
"It combines another type of genre -- romance. And then the two were put together, a very weird thing was created," he said.
Road trip films are popular in Hollywood films, but are still seen as a fairly fresh genre for the Chinese audience. Ning is not worried about it though.