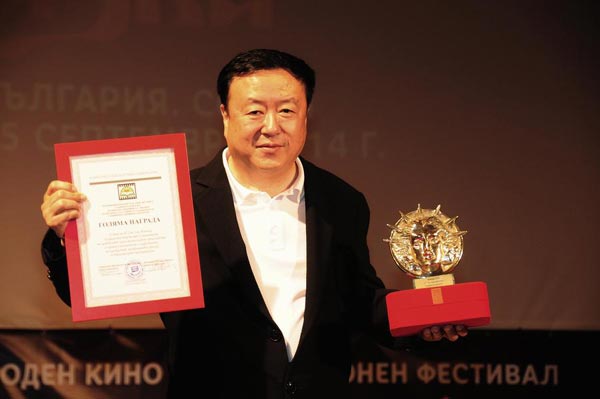 Chinese director You Xiaogang poses after winning the grand prize at the Second International Cinema and TV Festival "Flavic Fairy Tale" in Bulgaria, Sept 15, 2014. [Photo/Xinhua]
SOFIA -- You Xiaogang, one of the best directors of the TV series in China, won on Monday evening the grand prize "Helios" at the Second International Cinema and TV Festival "Slavic Fairy Tale".
Prof. Dimitar Dimitrov, President of the festival, said during the awarding ceremony that You received the prize for lifetime achievement in the development of Chinese film and television production, and contribution to the strengthening of cultural and international relations in the Eurasian space.
You Xiaogang, chairman of TV Drama Production Industry Association of China, told Xinhua that it was a great honor for him to receive the prize and it showed the expectations for the Chinese culture from Bulgaria.
"I am here to seek the opportunity for cooperation with the cinema and TV experts of Bulgaria, Russia and other Slavic countries. We've talked about making a documentary about the history of the Huns -- how the people from Northern Asia traveled to the Balkans and other European regions. The history is the common-interested topic of Bulgaria, Russia, Kazakhstan and other related countries. So our cooperation may start from this documentary," You said.
When talking about the "going abroad" of Chinese TV series, You said that the docudramas which are more close to the real history and the TV series which reflects the China's reality now would be more acceptable and more interesting to the foreign audience.
The Russian film Poddubnyy, directed by Gleb Orlov, won the Grand Prix of the festival in the competition of more than 300 movies from 15 European and Asian countries.