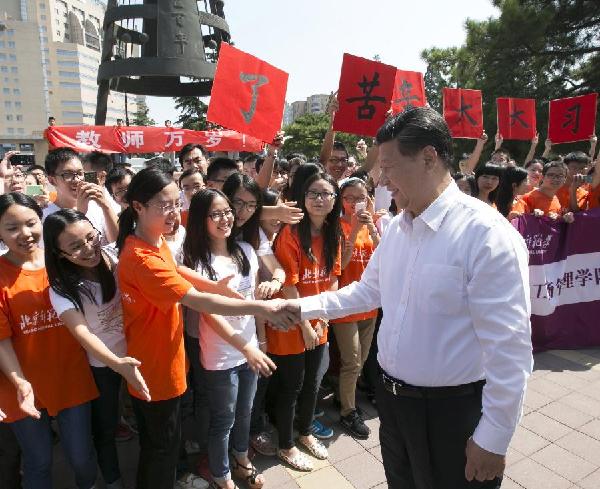 Chinese President Xi Jinping shakes hands with teachers and students at Beijing Normal University in Beijing, capital of China, Sept 9, 2014. [Photo/Xinhua]
President Xi Jinping on Tuesday, the eve of Teacher's Day in China, emphasized the importance of keeping Chinese classic poems and essays in high school textbooks.
Xi spoke at Beijing Normal University, where he visited labs and teaching sessions and talked with students and faculty.
"I really don't want to see all the Chinese classics being deleted from the textbooks and being replaced by their Western counterparts. It is sad if we don't keep true to our culture. The classics should be ingrained in students' minds and become the cultural genes of Chinese people," Xi said.
Xi also urged governments at all levels to put education at the top of their agendas and to continue education reform.
The improvement of education and the prosperity of the nation need teachers with sound ethics, great teaching skills and high energy levels, said Xi.
"I think what President Xi said is right," Ren Xiang, head of Chinese Language Teaching and Research Institute of Beijing Normal University commented this morning. She noted that 14 new ancient poems will be added to upcoming new textbooks for grade one pupils in Beijing and no less than 100 classics will be included in the curriculum for 6-year elementary education.
She said the new textbooks would also have more units about traditional Chinese holidays such as Spring Festival, Mid-Autumn Day and Lantern Festival.