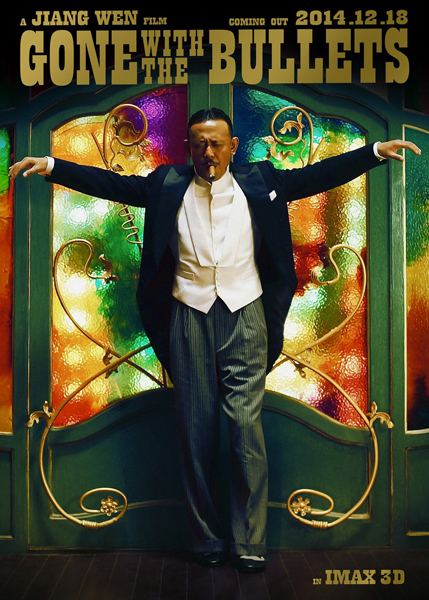 A poster of "Gone with the Bullets" [Photo/Mtime.com]
Jiang Wen, the director of the highly-anticipated Chinese movie "Gone with the Bullets", hired Academy Award winning professionals for the film's New York post-production, China.org.cn has learned.
Three-time Academy Award winner Michael Minkler ("Black Hawk Down," "Chicago," "Dreamgirls") took the job as sound mixer, while the movie's sound designer is Eugene Gearty, who won an Oscar for Best Sound Editing for his work on Martin Scorsese's "Hugo."
Scorsese introduced his 3D team for "Hugo" to Jiang Wen and helped find the post-production team for "Bullets." Jiang has worked in the United States for more than two months.
"Gone with the Bullets," set in 1920s Shanghai, is based on a true story. Main characters Ma Zouri (Jiang Wen) and Xiang Feitian (Ge You) establish a notorious beauty pageant called the "Flowers Competition." The city's elite all attend the gala event, but when Wanyan Ying (Shu Qi) unexpectedly wins, it sets into motion a series of tragic events that changes the characters' destinies.
Jiang's "Let the Bullets Fly" grossed 659 million yuan ($107.2 million) four years ago, to become one of the highest-grossing movies ever in China, winning over audiences and critics. Jiang and his producers are confident that the movie will break the biggest grossing film record in China.
"Gone with the Bullets" will hit Chinese screens on Dec 18, 2014.