New look keeps Chinese flavor subtle, elegant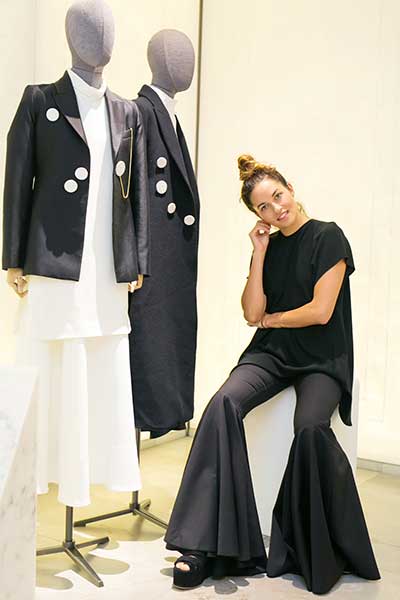 Australian designer Kym Ellery with her new designs that were inspired by artists of Jingdezhen, Jiangxi province, which is dubbed China's "porcelain capital".[Photo provided To China Daily]
China-inspired fashion can easily end up overflowing with Chinese motifs, just like the world saw at the Met Gala early this year.
However, Australian designer Kym Ellery has changed the game with her recent capsule collection for the 165th anniversary of Lane Crawford this year.
Lane Crawford is a multi-brand designer store with branches in Chinese mainland and Hong Kong.
Without looking instantly Chinese, the collection stays faithful to the DNA of her eponymous brand, highlighting structured silhouettes and clean lines.
The brand's best-selling styles are revisited with interesting details like Italian guipure lace inspired by Chinese ceramics and buttons customized by her artist mother.
The collection started with Ellery's recent trip to Jingdezhen, dubbed China's porcelain capital, where she visited and worked with Chinese modern artists such as Xie Dong and Chen Xiaodan who mainly work with ceramics.
"I was inspired by the artists, but also the space they worked in," Ellery, in her early 30s, tells China Daily in Beijing.
When traveling in Jingdezhen, Ellery captured a lot of small moments that caught her eye. As she browses through images in her camera, she shows a picture of a boarded wall on a construction site. The subtle color contrast between the board and the wall was later transformed onto an ivory trench coat in the capsule collection.
Another picture shows coral pink chemicals derived from the ceramic-making process. The color was later reinterpreted into her collection as a twist to the main tones of black and white.
"I was looking at the little moments that have just been thrown aside but were quite beautiful in nature," she says.
The trip was initiated by Lane Crawford after the merchandising team saw her 2015 autumn/winter collection at Paris Fashion Week last year, which was influenced by Austrian artist Egon Shiele and the bold characters in his paintings.