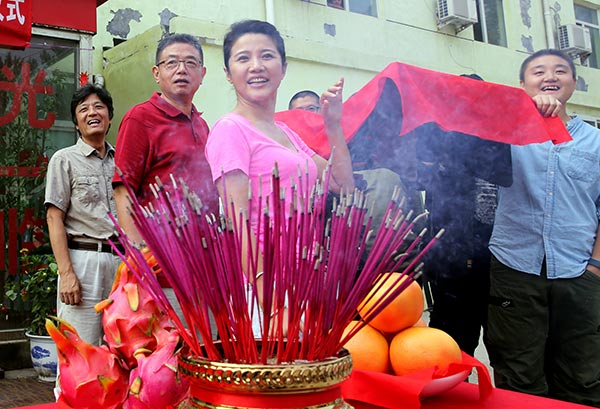 Yan Bingyan (center, in pink) lead stars the upcoming arthouse film A Pension Plan. [Photo by Jiang Dong/China Daily]
Shooting for A Pension Plan, a movie based on Chinese-American author Ha Jin's story of the same name, began in northern Beijing on Tuesday.
Filming for the movie is scheduled to be completed in late October.
The film, based on the story from Ha's collection A Good Fall, is expected to be screened at a series of international film festivals. The feature-length movie, directed Zhu Yuancheng, will open in mainland theaters next summer.
Set in an aging society, the tale is about an affair between an elderly Alzheimer's patient and his nanny. The protagonist mistakes the woman for his late wife and gets into her bed.
The story takes a dramatic turn when the nanny finds out that she is pregnant.
Ha, who lives in the United States, writes only in English. He enjoys a formidable reputation in Western literature circles for winning America's National Book Award and the PEN/Hemingway Award.
Zhu, a newbie director, says he convinced Ha to let him use the story to make the film as he was fascinated by the tale and the author's in-depth treatment of the subject.
Award-winning actress Yan Bingyan and veteran actor Wang Deshun are part of the cast.
Related:
Mountains may depart vies for Oscar