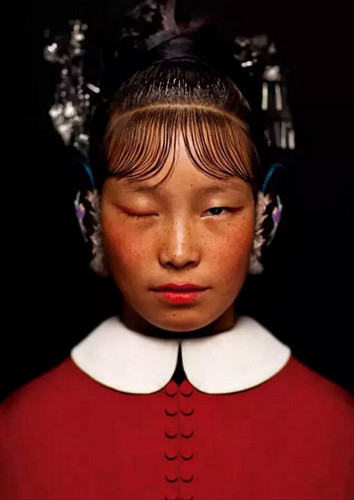 One of the "Twelve Chinese Colors" series which photoed by Chen Man in 2012. [Photo/CCTV.com]
Celebrity portraits were among the 500 photos on sale at the Shanghai Exhibition Center over the weekend. 'Photo Shanghai' combines the works of 50 leading galleries from around the world, and took in record revenues.
The exhibition is featuring works of many well known photographers such as Yousuf Karsh, who took this portrait of Winston Churchill in 1941. Also on display is Brian Duffy's work of David Bowie, along with Japanese photographer Nabuyoshi Araki's photos. Among the 500 works in this exhibition, around one third of them are from Chinese photographers.
"These are rocks from Greece, and these details of modern Greek architecture on the rocks are added with computer technology, to present the fading of history in the modern world," said Yang Yongliang, Photographer.
"I remember going down to the village near Yangshou, which is quite well-known, asking this fisherman, 'Can you go further up?' And we spent two days travelling upriver, and I anchored the boat to the bottom of the river because the river was flowing quite quickly, and took the shot because I wanted to get it all in balance with the landscape," said Jimmy Nelson.
Organizers say the exhibition this year is 40% bigger than last year, and fashion photography accounts for the majority of the works due to increasing interest from the Chinese market. The sale from yesterday's VIP preview event has already exceeded last year's record for the entire show.
"Completely varies obviously, I mean you can buy something for 500 dollars, you can also buy something for 900,000 dollars, so depending on where you want to go," said Scott Grey, CEO, World Photography Organization.
"So the average probably is sort of 5,000 to 20,000 dollar range, but there really is for everyone. I mean fashion photography goes very well here in China, abstract, you know it's different. There are wonderful vintage works from China as well."
"I think people would like to spend more money on paintings than photos if they don't understand it very well, because many of them think it's just a picture taken in a second," said Liu Shuqing.
The exhibition also holds different forums everyday for visitors to listen and talk to photographers about the ideas behind the photography.