A photo exhibition organized by APP-China is kicking off on Sept 11 in Milan, Italy, to showcase the company's social responsibility and highlight China's traditional papermaking culture and sustainable development.
The exhibition was designed as a warmup for the upcoming Corporate Day that APP-China will host on Sept 25 at the China Pavilion during the ongoing Expo Milano 2015.
The exhibition has 40 photos on display, which capture the different looks of Beijing, Shanghai, Wenchuan and Xishuangbanna in natural light to showcase their cultural essence. All the photos were taken by photographers from Xihan Action, a public welfare organization that focuses on protecting intangible cultural heritage.
Some photos taken in Xishuangbanna, Yunnan province, record the production process of Dai paper. Dai paper is an indispensable part of the Dai ethnic culture and its craftsmanship has been passed down for more than 800 years. Dai paper is considered a "living fossil" of China's ancient papermaking techniques.
The papermaking process is environmentally friendly-collecting pure natural bark from paper mulberry, beating it into fibers and then making it into paper. The entire process is done completely by hand.
Dai paper is known for being tough, durable, decay-resistant, moisture-proof and pollution-free and is traditionally used for packaging the renowned Pu'er tea produced in Yunnan, according to Xihan Action.
Photos taken in Wenchuan, Sichuan province, show the city rebuilding its vitality during the post-disaster reconstruction processes after a deadly earthquake in May 2008. The photos respond to the China Pavilion's theme of "The Land of Hope, the Spring of Life".
"As a leading papermaking company in the country, APP-China not only attaches great importance to natural ecology, but also pays much attention to the development demands of human ecology," said Zhai Jingli, deputy CEO of the company.
"We hope that with such activities during the expo, APP-China can show the world China's centuries-old papermaking culture and the irreplaceable importance that paper has played in passing down the Chinese civilization," she added.
The company has chosen some of the photos to make an album and plans to give it to guests as a gift at its Corporate Day.
The album is made of digital photo paper produced by Gold Huasheng Paper Co, a subsidiary of APP-China.
The company is also the supplier of stationery and notepaper for the China Pavilion. According to the company, its paper is lighter and smoother than competitors and has been exported to Japan, South Korea and Southeast Asian countries. The paper is often used to package food because it does not contain any fluorescent agents.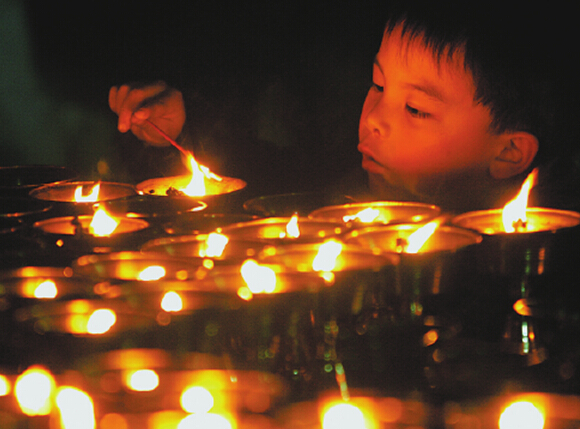 A photo depicts a child lighting lamps to mourn the dead after the Wenchuan earthquake in May 2008.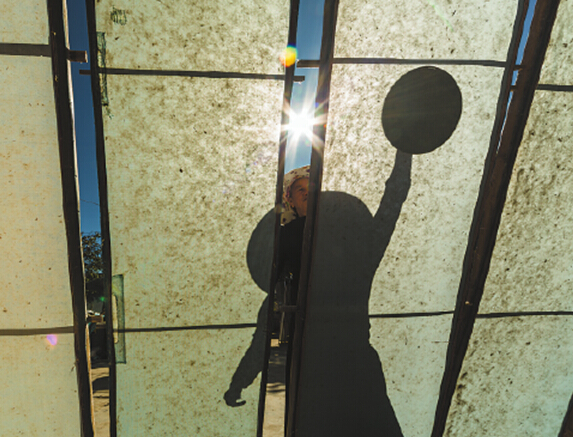 A picture shows the ancient production process of Dai paper in Xishuangbanna, Yunnan province.