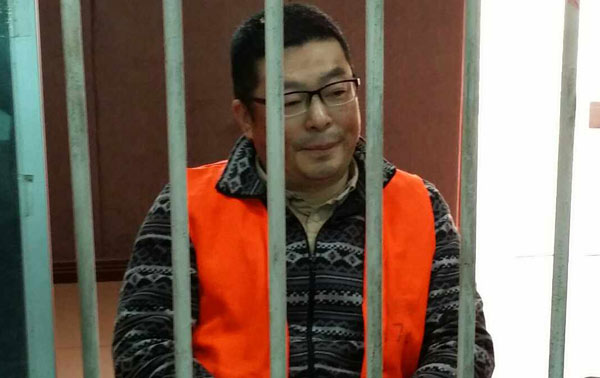 Leukemia patient Lu Yong in jail in Yuanjiang, Hunan province, in January 2014, after he was detained by police for allegedly selling counterfeit drugs. Hong Kefei / for China Daily
Charges against a Chinese leukemia patient, who helped fellow patients buy unapproved drugs from India, have been dropped by local prosecutors in central China's Hunan province.
However, the reasons for the surprising turnaround are not specified.
The patient, Lu Yong, has been accused of selling counterfeit drugs and credit card fraud.
He was arrested in Beijing on January 10 and was later detained by the police in Hunan.
The 47-year-old textile businessman helped hundreds of his fellow patients to buy unapproved drugs from India between 2006 and 2013.
The Indian-made drug Veenat, costing Lu about 3,000 yuan, or around $480 per month, while the Swiss made Gleevec he had been taking before cost him nearly 8 times as much.
He almost went bankruptcy after two years of taking Gleevec.
Lu Yong posted about his experience online and that soon drew the attention of many leukemia patients, asking him to buy the drug on their behalf.
However, medications unapproved by Chinese authorities are regarded as illegal in the country.