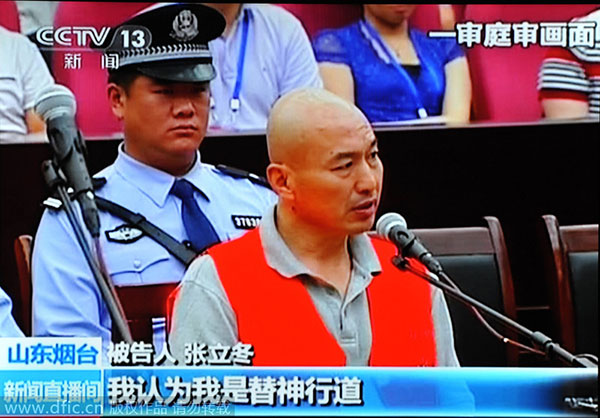 TV grab taken from CCTV (China Central Television) shows Zhang Lidong accused of killing a woman at a McDonald's restaurant in Zhaoyuan city in East China's Shandong province on 28 May 2014, stands trial at the Yantai Intermediate People's Court in the province's Yantai city in this 11 October 2014 file photo. [Photo/IC]
JINAN - Two cult members were executed in China's eastern province of Shandong on Monday for beating a woman to death at a McDonald's outlet in May.
Zhang Fan and Zhang Lidong, who were members of the Almighty God cult, known in Chinese as Quannengshen, were put to death by the Intermediate People's Court of Yantai City.
In November 2014, the Shandong Higher People's Court rejected the cult members' appeals and upheld their death sentences as well as the life imprisonment of another accomplice, Lyu Yingchun, for intentional homicide and undermining law enforcement using heresy.
The Supreme People's Court approved the death penalty after reviewing the case, saying the convicts' crimes were extremely serious, their means brutal and that the incident brought an extremely bad social effect.
The victim, Wu Shuoyan, was beaten to death on May 28 at a McDonald's outlet in Zhaoyuan, Shandong, after she refused to give her cellphone number to the cult members, who were allegedly trying to recruit new members for Quannengshen.
The group branded Wu an "evil spirit" for her refusal and Zhang Fan proceeded to bludgeon Wu with a chair. Once Wu was on the ground, Zhang stamped on her head, repeatedly jumping up and down on her while asking other cult members present to partake.
Zhang Lidong also assaulted Wu with a mop until it broke and stomped on her head, accompanied by Lyu repeatedly kicking the woman.
Established in the 1990s in central China's Henan Province, Quannengshen claims that Jesus was resurrected as Yang Xiangbin, the wife of the sect's founder, Zhao Weishan, also known as Xu Wenshan. The couple fled to the United States in September 2000.