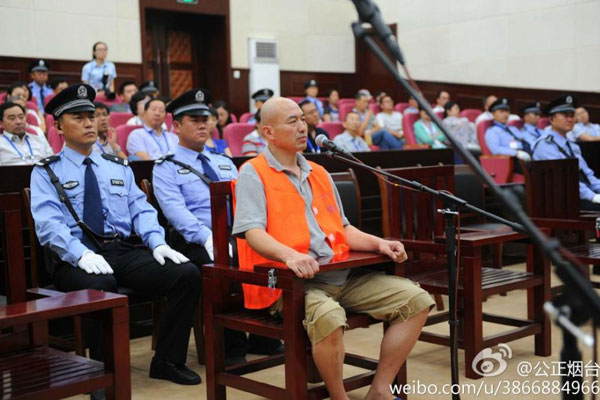 A cult member of Quannengshen, which means "almighty god", stands trial on the charge of murder at Yantai Intermediate People's Court on Aug 21, 2014. A woman surnamed Wu was beaten to death on May 28 at a McDonald's outlet in Zhaoyuan City, Yantai, after she refused to give her telephone number to the suspects, who were allegedly trying to recruit new members for their cult Quannengshen, which means "almighty god." [Photo from the Weibo account of Yantai Intermediate People's Court] 
China will impose more severe punishments on organizations defined as cults and cult-related crimes, according to a draft amendment to the Criminal Law delivered to the country's top legislature for review on Monday.
Under the amendment, if a person organizes or makes use of a religious institution or cult organization, or spreads superstitions to undermine national laws or regulations, he or she will face a prison term of three to seven years and fines.
The amendment was delivered for its first reading during the current bimonthly session of the Standing Committee of the National People's Congress.
In addition, it says, if the circumstances are serious, such as acts resulting in a mass incident or causing the death or serious injury of others, suspects will be subject to sentences ranging from seven years to death.
At present, China has no specific law relating to cult organizations, and the criminal law doesn't clearly define cult crimes or provide sentencing standards based on different circumstances.
"If the revised law comes into force, it will provide a formal legal basis for judicial organs to prosecute and handle cult-related crimes," Li Shishi, director of the NPC Standing Committee's Legal Affairs Commission, said on Monday.
Recently, some cult-related crimes across China have resulted in death and injury, or in losses of private property, all of which have eroded people's sense of safety, according to Dai Peng, director of the Criminal Investigation Department at People's Public Security University of China.
The nature of cult organizations is "inhuman, anti-social and unconstitutional", Dai said. "It's not religion but heterodoxy."
In an incident in May, a woman was fatally beaten at a McDonald's restaurant in Zhaoyuan, Shandong province, after she refused to give her telephone number to five cult members who were attempting to recruit her into their group, the Church of Almighty God.
The introduction of the amendment to increase punishments for cult-related crimes "will relieve people's concerns and is conducive to improving their sense of safety," Dai said.
According to the Ministry of Public Security, from June through September, the national police captured more than 1,000 Church of Almighty God members in more than 500 cases.
Dai said that cults are often involved in violent crimes, such as murder, kidnapping, robbery, money fraud and sexual abuse.
"Apart from police action, the key is to educate and give proper guidance to the youth," he said, adding that communities and the media can help set up a positive outlook on life and stay away from bad influences.
zhangyan1@chinadaily.com.cn