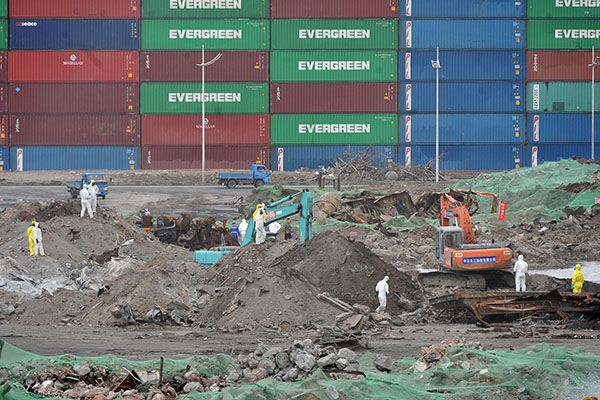 The final cleanup gets underway at the warehouse blast site in Tianjin on Friday. All of the containers, damaged vehicles and buildings at the site have been removed. Jia Chenglong / for China Daily
Compensation begins to arrive as promised while probe continues
A month after the deadly Tianjin blasts, family members of Liu Chuntao still can't believe the 22-year-old firefighter has left them forever.
"My mom keeps talking about my brother. She said she feels he is still there. She thinks he should still be working there," said his sister, Liu Chunmin, 24.
"The whole family was trying hard to keep the news from my mom because she was in poor health, but we couldn't conceal it any longer when it was confirmed, and both my mom and dad were required to go to Tianjin," said Liu from her hometown in Yuxian county, Hebei province.
Liu Chuntao was a contract firefighter employed by Tianjin Port and was among the first group to arrive at the scene on Aug 12. His death was confirmed on Aug 23 after DNA testing.
By Friday afternoon, the blasts that rocked a warehouse storing hazardous chemicals had claimed 165 lives, including 99 firefighters. Eight are still missing.
Two hundred and thirty-three people are still hospitalized, of whom three are in critical condition.
"It felt like many years had passed," said Liu Runwen, father of 18-year-old contract firefighter Liu Zhiqiang, whose death was confirmed on Sept 1.
"They told us the body might not be complete and we didn't go too close to see him. We were afraid we couldn't deal with it," said Liu.
After the accident, the parents of contract firefighters expressed concerns that their children might not be honored as the armed soldiers were.
When visiting the scene on Aug 17, Premier Li Keqiang said they were all heroes and compensation should be the same.