A league for cooperation in healthcare between China and Arab states will be established to promote technological and personnel exchanges, officials said on Friday.
The league will be headquartered in Yinchuan, capital of Northwest China's Ningxia Hui autonomous region. It forms part of a wider exchange planned between China and Arab nations in the health sector, China's National Health and Family Planning Commission announced on Friday.
The announcement was made during the first China-Arab States Forum on Health Cooperation held from Thursday through Sunday in Yinchuan. The Arab states included in the cooperation are the 21 nations of the Arab League.
"With increasing globalization, cross-country health risks have risen sharply, and regional public health hazards can be turned into global ones quickly," said Li Bin, minister in charge of the commission.
"China and Arab states need further cooperation in healthcare and need to work together to handle serious threats, such as new infectious diseases," she said.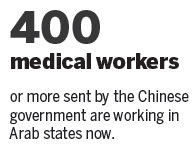 Tian Fengnian, deputy director of Ningxia's health and family planning commission, said the plan to establish the league has won support of Arab States and will include a wide range of medical institutions from both China and Arab nations.
Currently, more than 10 hospitals from Arab nations and more than 20 top Chinese hospitals have become founding members of the league, he said. The league may be officially established next year, and more hospitals are expected to join, Tian said.
"The league may contribute to more exchanges between hospitals in China and Arab states in sharing technology and management experience and communications between medical staff," he said.
China has sent medical assistance teams to nine Arab states, including Algeria and Kuwait, since 1963, involving a total of nearly 10,000 medical staff, Li said.
Currently more than 400 medical workers sent by the Chinese government are working in Arab states, accounting for 40 percent of all Chinese medical staff sent overseas, she said.
China and Arab states will also intensify cooperation in environmental protection and health, such as food safety, water safety and public health, a declaration from the forum said.
Contact the writer at wangxiaodong@chinadaily.com.cn
(China Daily 09/12/2015 page4)