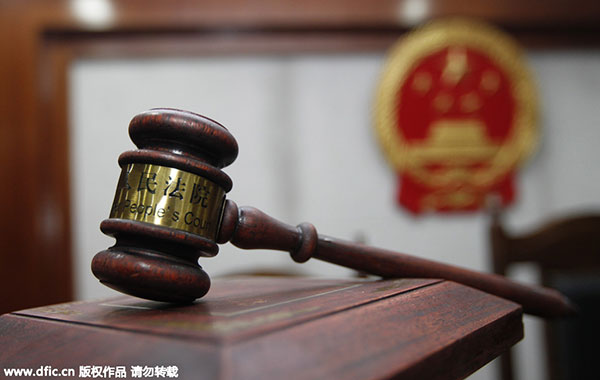 A gavel in a court. [Photo/IC]
The High People's Court of Anhui has publically apologized to 19 wrongly sentenced defendants.
A newspaper announcement clarified that people found guilty in a fraud case had been incorrectly judged, thepaper.cn reported on Tuesday.
The announcement in the Bozhou Evening News, said the court apologized and withdrew the verdicts to reinstate the good reputation of the defendants.
It is believed to be the first time a court has apologized for an incorrect judgment through a newspaper, said Wang Luchun, an attorney in the case.
He said it is good that the court listens to and takes advice from attorneys with those wrongly sentenced entitled to apply for compensation.
Ying Songnian, a professor at the China University of Political Science and Law, gave credit to the court's actions.
"It is not only a comfort to those people who have been wrongly sentenced, but also helps them regain their reputation and get back to work," said Ying. "The court's apology will gain public trust as they create an honest and trustworthy impression."
Some 39 defendants had been prosecuted by the municipal procuratorate for fraud, illegal fund raising and bribery in Bozhou in Jan 2010.
In 2011, the defendants were sentenced but appealed.
The Supreme Court repealed the sentence and returned the case for a retrial due to lack of evidence.
Bozhou Intermediate court took the case and gave its decision in July 2014. During the retrial, the prosecution of 19 of the 39 defendants was withdrawn.
Those wrongly sentenced received compensation on Sunday.