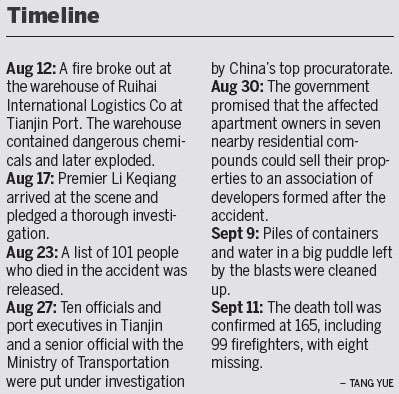 The families of the two firefighters confirmed with China Daily on Friday that they had received compensation of 2.3 million yuan ($360,000), as the government had announced.
The last large pile of containers at the explosion site had been cleaned up by Thursday, according to the Tianjin Information Office.
Ten officials and port executives in Tianjin and a senior official with the Ministry of Transportation are under investigation. Police have also detained 12 suspects, including the heads of Ruihai International Logistics, which owns the warehouse at the center of the blasts.
The cause of the accident is still under investigation.
"We hope and believe all of those who are responsible for the accident will be punished according to law. This will not only be a great comfort to our family but also the residents who suffered," said Liu Chunmin.
On Aug 30, the Housing Management Department in Tianjin Binhai New Area announced that damaged apartments at seven residential compounds could be sold to an association of State-owned property developers.
The price will be 1.3 times the higher of either the purchase price or the market value before the accident.
The market value will be evaluated by an agent selected by the property owners.
"When it happened, I was afraid that even if I sold it at half of the original price, no one would buy it. It was such a relief when the plan was announced," said Cui Xianfeng, who lived about 700 meters from the blasts.
"Sudden big noises still remind us of the terrible explosion. I'm afraid it will take years for my family to fully get rid of the fear," said Cui, 29, who plans to buy an apartment in downtown Tianjin.
tangyue@chinadaily.com.cn