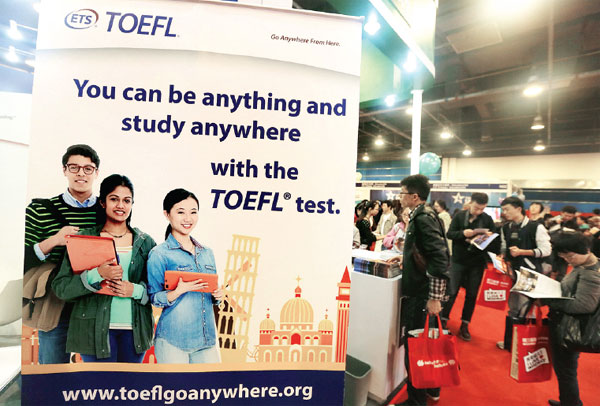 A poster for TOEFL test is displayed at the China Education Expo in Beijing in October, 2014. Provided to China Daily 
An English-language test was leaked a week before an exam, the Beijing News reported on Monday.
"The scores of examinees would be suspended or annulled once it's confirmed," said Fu Yingdong, a Test of English as a Foreign Language (TOEFL) teacher with eng24.com, a long-distance online English training institution.
The exam leak has been verified by Fu, who wrote a blog on the afternoon of Jan 31, the day of the exam. Topics, as well as answers for the reading section have been leaked.

In his blog, Fu said he was alerted a day earlier via a message from Sina Weibo that someone had acquired the entire set of keys to the Jan 31 TOEFL and had sent him the written and spoken topics.
Fu concluded that the leak was not "small scale", as both teachers and students had received leak alerts via the microblogging site Weibo or the messaging app WeChat.
Fu said compared to cheating, a long existing problem due to weak supervision, leaks are "an extremely rare case".
Wu Xioliang, another TOEFL teacher, revealed that some teachers had been offered the opportunity to buy the topics and keys as early as Dec 25, with the price ranging from 10,000 yuan ($1,601) to 30,000 yuan.
Wu said the leaks may be due to a "mechanism loophole" as online exams have to be connected via a locked wire in North America which can be affected due to an unstable network.
Wu suspected that the USA's Educational Testing Service (ETS) might upload exams earlier to prevent delay, which could have given some people "an opportunity."
Chinese staff at the ETS said they had not been informed of the leak, and advised that the issue be reported to an email address as test organizers in China have no right to handle such matters.
The College Board was forced to withhold some scores on the Scholastic Aptitude Test in Asia in October, November and December because of allegations that some students cheated.
About half a dozen counselors and students in South Korea and elsewhere in Asia have said that some test preparatory companies have learned about items in the exam and have provided them to clients.