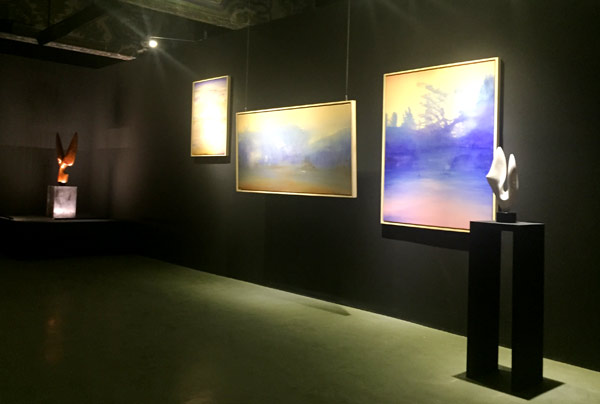 The exhibition "The Masters of Shapes and Colors" at Beijing Yishu 8. [Photo by Bi Nan/chinadaily.com.cn]
"The Masters of Shapes and Colors", an exhibition in Beijing combining Chinese paintings and French sculpture, is the first co-exhibit between the two artists and marks a cultural exchange between the countries.
Antoine Poncet, a noted French sculptor and member of the French Academy of Fine Art, was born into an artistic family in 1928. His abstract sculptures, made from marble or bronze, look dynamic as well as tranquil, with smooth outlines and various shapes of holes. Viewers can feel the trail of time flowing and the eternal of life from the sculptures.
Feng Xiaoming, a French-Chinese painter, was born in Shanghai and has lived and worked in Paris since 1980. His work fuses the techniques of Chinese painting with western elements, so it's neither solely abstract nor figurative. The color of his painting is pure and vibrant, creating an elegant sight.
Putting their works together, visitors can enjoy both art forms simultaneously and feel that they are telling stories together as they perfectly match each other.
The graceful curves of the sculptures echo with the gorgeous paintings, bringing visual enjoyment to audiences.
The exhibition is co-hosted by Beijing Yishu 8 and Philippe Staib Gallery in Shanghai.
If you go:
From Sept 12 to Oct 18
Yishu 8, Former Sino-French University, No 20 (jia), Dong Huangchenggen Bei Jie, Dongcheng district, Beijing
+86 (10) 6581 9078