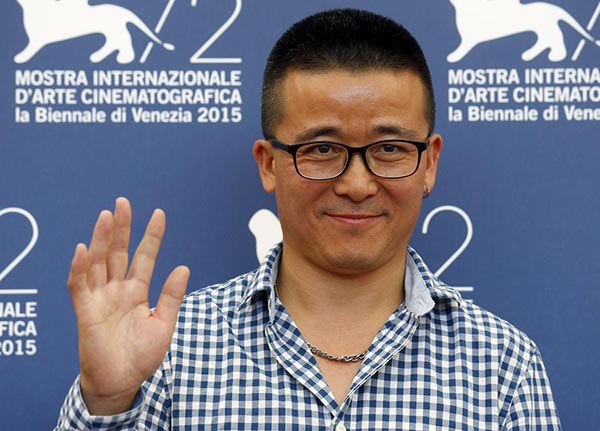 Director Zhao Liang attends the photocall for the movie "Bei Xi Mo Shuo" (Behemoth) at the 72nd Venice Film Festival, northern Italy September 11, 2015. [Photo/Agencies]
Chinese filmmaker Zhao Liang said on Friday the Mongolian coal mine depicted in his documentary "Beixi Moshuo" (Behemoth) is a vision of hell out of Dante's "Divine Comedy", and hopes viewers everywhere will realise ravaging the environment must stop.
The film, competing for the main prize at the Venice Film Festival, is an extraordinary look at what resembles a human anthill of ceaseless, manual work by miners at a sprawling complex in China's northern Inner Mongolia autonomous region.
"My biggest hope is to convey the message that no matter where you are and what your living conditions are and where you actually live, people should be more aware of these issues and maybe lower their expectations and their desires towards life and not waste that many resources and supplies, to live more simply," Zhao told Reuters in an interview.
"I hope people get to reflect about their lives and how our lifestyles affect everything around us, including the environment."
Working around-the clock under floodlights, the mines and its workers have displaced the local herdsmen, whose grasslands have disappeared. The film shows miners staggering under their workload, and also glimpses of them in hospitals, being treated for black-lung disease brought on by breathing coal dust.
He said the notion that his images from the coal mine might be framed as a modern-day version of the 14th-century Florentine poet Dante Alighieri's descent into hell had been suggested to him by the film's French backers, the National Audiovisual Institute (INA) and ARTE France.
"We had this connection with Dante's 'Divine Comedy' by pure chance because every time I visited the place, the location I got the idea of being down in hell and when I showed the footage to the producers they suggested I read it," Zhao said.
He said that what Dante wrote in the early 14th century "corresponds to what we experience here in our days, and this was how this connection with the 'Divine Comedy' by Dante was developed and became part of my film".
Related:
Film festival showcases Chinese culture
Underground Fragrance propels 'Chinese Dream' at Venice Int'l Film Festival