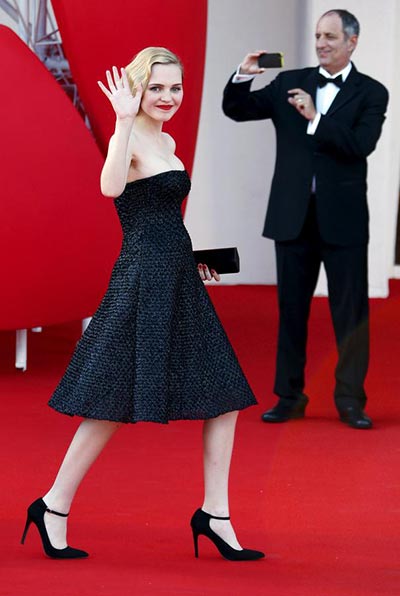 Actress Odessa Young waves as she arrives on the red carpet for the movie "Looking for Grace" at the 72nd Venice Film Festival in northern Italy, September 3, 2015. [Photo/Agencies]
Various films at the ongoing Venice International Film Festival show the harsh life of children hit by war and contradictions of the adult world.
Australian director Sue Brooks' film Looking for Grace, which premiered on Thursday in the competition section Venezia 72, tells the story of a 16-year-old girl who runs away from home.
In her journey, Grace experiences betrayal and loneliness, while learning that life is confusing and arbitrary, though wonderful.
Emerging Australian actress Odessa Young, who played Grace, said the main reason why she was attracted by the script was because of its emerging picture of the complexity of the world of teenagers.
"Teenagers are not generally treated with complexity or with respect," Young told a press conference at the Lido of Venice.
"I liked the script because Grace is at such a point in her life where everything is new and exciting, she is struggling to discover herself and the people around her," she said.
Some spectators told Xinhua they liked the way Looking for Grace left the confused messiness of life with its lies, secrets, small and large grief and love, on screen. The audience of journalists and cinema critics in Venice broke in applause after the film.
Brooks, the director, confirmed that she wanted to make a film like life as she experiences it, with no heroes.
She told the press conference that every one of her actors made the characters their own.
"They were no longer interpreting a script. They were their own people, with their own problems and their own lives," she said.